White House 'Laser-Focused' on Getting $1,400 Stimulus Checks, Other Money to Americans
Now that Congress has passed the American Rescue Plan, the White House is turning its attention on how to implement the provisions in the $1.9 trillion package, including getting direct payments into people's bank accounts.
The House passed the package along party lines on Wednesday, with all but one Democrat voting in favor of the legislation and every Republican opposing it. President Joe Biden is expected to sign the package on Friday, triggering the Treasury Department's ability to start sending out payments.
"We are now laser-focused on the question of how to implement this bill quickly and effectively so that the resources get out to those Americans who need it, including those direct payments," Brian Deese, director of the White House National Economic Council told CNN's New Day on Thursday.
Eligible individuals with incomes under $75,000 and joint filers with incomes below $150,000 are poised to receive $1,400 and $2,800 payments, respectively. Payments will once again phase out for those with higher incomes—but instead of cutting off at $99,000 for individuals, payments will exclude those making over $80,000.
Income eligibility will be based on a person's adjusted gross income as it was filed for their 2020 tax return, or their 2019 return if they have yet to file.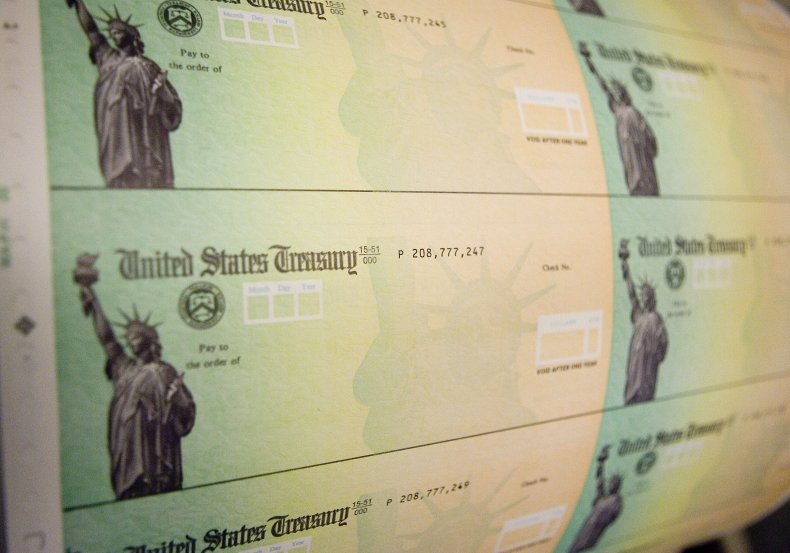 As has been the case the last two times the Treasury Department sent out payments, those who used direct deposit for their tax returns will receive their payments first. Those payments, according to Deese, should start going out in March.
After that group, taxpayers who the IRS has payment information on file from other programs should start seeing payments, followed by those who will receive physical payments in the form of checks or debit cards.
Newsweek reached out to the Treasury Department for comment, but did not receive a response in time for publication.
Along with stimulus checks, the $1.9 trillion relief package extends unemployment payments through September 6. Democrats tried to increase payments to $400, but the final version of the package that's headed to Biden's desk kept payments at their current level of $300.
While people may not see stimulus payments for a few weeks, Deese told New Day they're already feeling the impact of the package passing because of the unemployment extension.
"They can rest a little easier knowing they're going to get some money in their pockets and things like unemployment insurance won't run out at the end of this week," he said.