White House Locked Down as Police Scuffle With Protesters Demanding Trump Resignation
The White House was placed on lockdown Friday as protesters gathered outside its gates as part of a nationwide spate of demonstrations against the death of Minneapolis resident George Floyd.
Demonstrators were calling for the resignation of President Donald Trump and chanting "I can't breathe." Secret Service agents refused to allow people to exit the ground of the White House.
Video footage of the protests was shared on social media. Language in the videos may be deemed objectionable by some readers. In one video, Secret Service agents on the scene were spotted detaining protesters.
Some protesters were spotted moving barricades in front of the White House.
Others were spotted setting American flags on fire.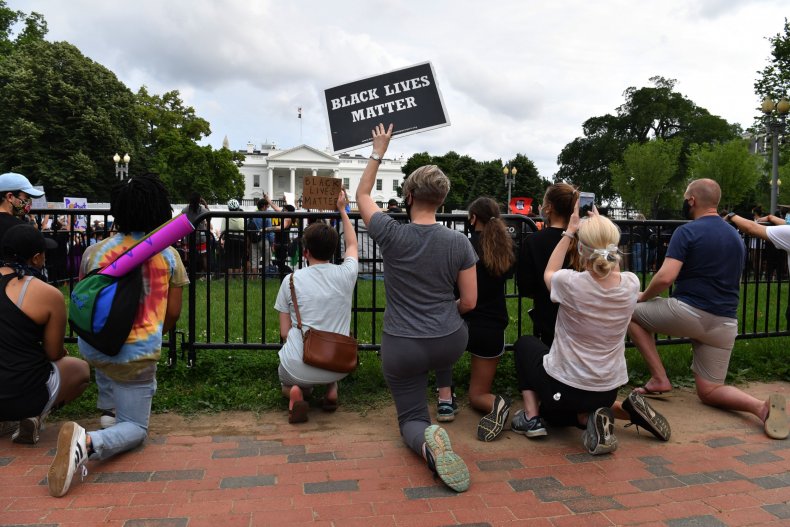 In a statement sent to Newsweek, the U.S. Secret Service said it was "currently assisting other law enforcement agencies during a demonstration in Lafayette Park. In the interest of public safety we encourage all to remain peaceful."
As of 8:20 p.m. ET, the lockdown at the White House has been lifted as protesters moved towards the Capitol Building.
Protests at the White House follow the charging of former officer Derek Chauvin with manslaughter and third-degree murder in the death of George Floyd. Floyd died Monday after being detained by Minneapolis police on suspicion of forgery. Chauvin allegedly knelt on Floyd's neck for roughly ten minutes.
Floyd was heard to say, "I can't breathe" in a video of the occurrence taken by a bystander and shared on social media.
Anger over Floyd's death has caused demonstrators to protest across the country, most notably in Minneapolis. Thursday, protesters looted businesses, destroyed property and set a police precinct building on fire.
Trump referred to Minneapolis demonstrators as "thugs" in a tweet early Friday, seemingly approving the use of force against those involved in the protests. "When the looting starts, the shooting starts," Trump wrote. Twitter placed a caution before access to Trump's tweet was permitted, warning users that the content of Trump's tweet "glorifies violence."
Trump also referred to Minneapolis Mayor Jacob Frey as "very weak Radical Left," tweeting that if Frey did not "get his act together and bring the City under control," that Trump would call out the National Guard and "get the job done right."
Frey responded to Trump's tweet at a Friday news conference. "Weakness is refusing to take responsibility for your actions," Frey said. "Weakness is pointing your finger at somebody else during a time of crisis. Donald Trump knows nothing about the strength of Minneapolis."