Mike Pence's Office Was Pinpointed by Several White House Officials During Search for Op-Ed Writer: Report
In the aftermath of a scathing New York Times op-ed bashing Donald Trump's leadership as president, some in the West Wing suspected the anonymous article came directly from Mike Pence's office.
Several White House staffers were looking "skeptically" at the vice president's office, according to a recent Times report, and remained unconvinced by the denials issued by Pence and members of his staff.
The first denial that Pence was behind the anonymous op-ed came from his chief of staff, Jarrod Agen, in a Twitter post on Thursday morning.
"The Vice President puts his name on his Op-Eds. The @nytimes should be ashamed and so should the person who wrote the false, illogical, and gutless op-ed. Our office is above such amateur acts," Agen argued.
Pence himself did not acknowledge the op-ed until later on Thursday, telling reporters that "anyone who would write an anonymous editorial smearing the president, who has provided extraordinary leadership to this country, should not be working in this administration." He added that the "honorable" thing for the author to do would be to resign.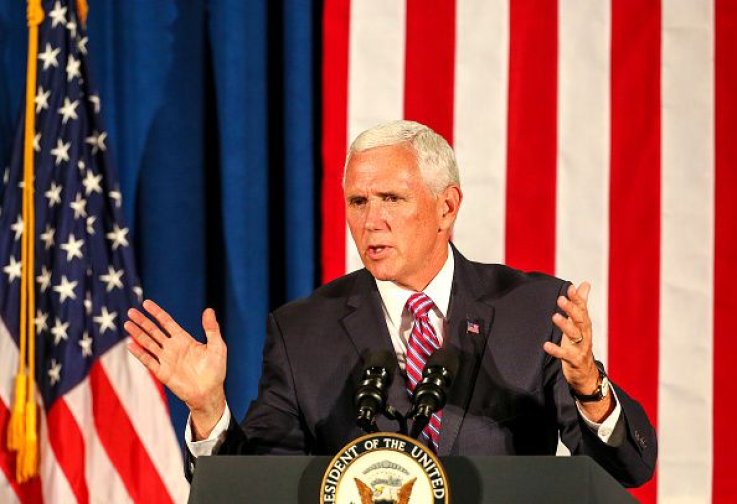 It isn't just West Wing staffers who believe Pence may be behind the op-ed. Democratic Minority Leader Nancy Pelosi told reporters on Thursday that she'd originally guessed the vice president was responsible.
"That was my first thought," Pelosi told reporters on Capitol Hill Thursday morning.
Theories that the vice president was behind the op-ed, which Trump slammed as "gutless" and a conspiracy of the "deep state," circulated online shortly after the piece was published, due to one word that appeared near the end: "lodestar." The unusual term had been used many times by the vice president during speeches and events across the country.
Many members of the Trump administration have denied writing the blistering piece, including Defense Secretary James Mattis, Secretary of State Mike Pompeo and Director of National Intelligence Dan Coats. Other notable denials include Nikki Haley, ambassador to the United Nations, Treasury Secretary Steven Mnuchin and Education Secretary Betsy DeVos.
It is still a mystery who the self-described "senior official in the Trump administration" behind the op-ed might be, and has led to many guesses, including social media polls and betting odds.
Omarosa Manigault Newman, an ex-White House aide and author of a memoir bashing the Trump White House, put out a Twitter poll to her 156,000 followers asking who they thought was behind the op-ed. Options included individuals who had been linked with imminent exits from the White House soon: John DeStefano, Bill Stephens, Nick Ayers and Andrew Bremberg.
More than 4,300 votes were tallied, with Manigault Newman's followers speculating that Ayers, the vice president's chief of staff, was the person behind the op-ed.
As the guessing game continued, Trump slammed the Times and questioned the existence of the senior White House official.
The president said in an exclusive interview with Fox & Friends that it was likely a "deep-state person who's been there a long time. It's a very unfair thing."
"What's unfair, I don't mind when they write a book and they make lies because it gets discredited," Trump added, saying it was challenging "when somebody writes and you can't discredit because you have no idea who they are."
Mike Pence's Office Was Pinpointed by Several White House Officials During Search for Op-Ed Writer: Report | U.S.