White House Mocks Netanyahu With Iran Nuclear Bomb Graphic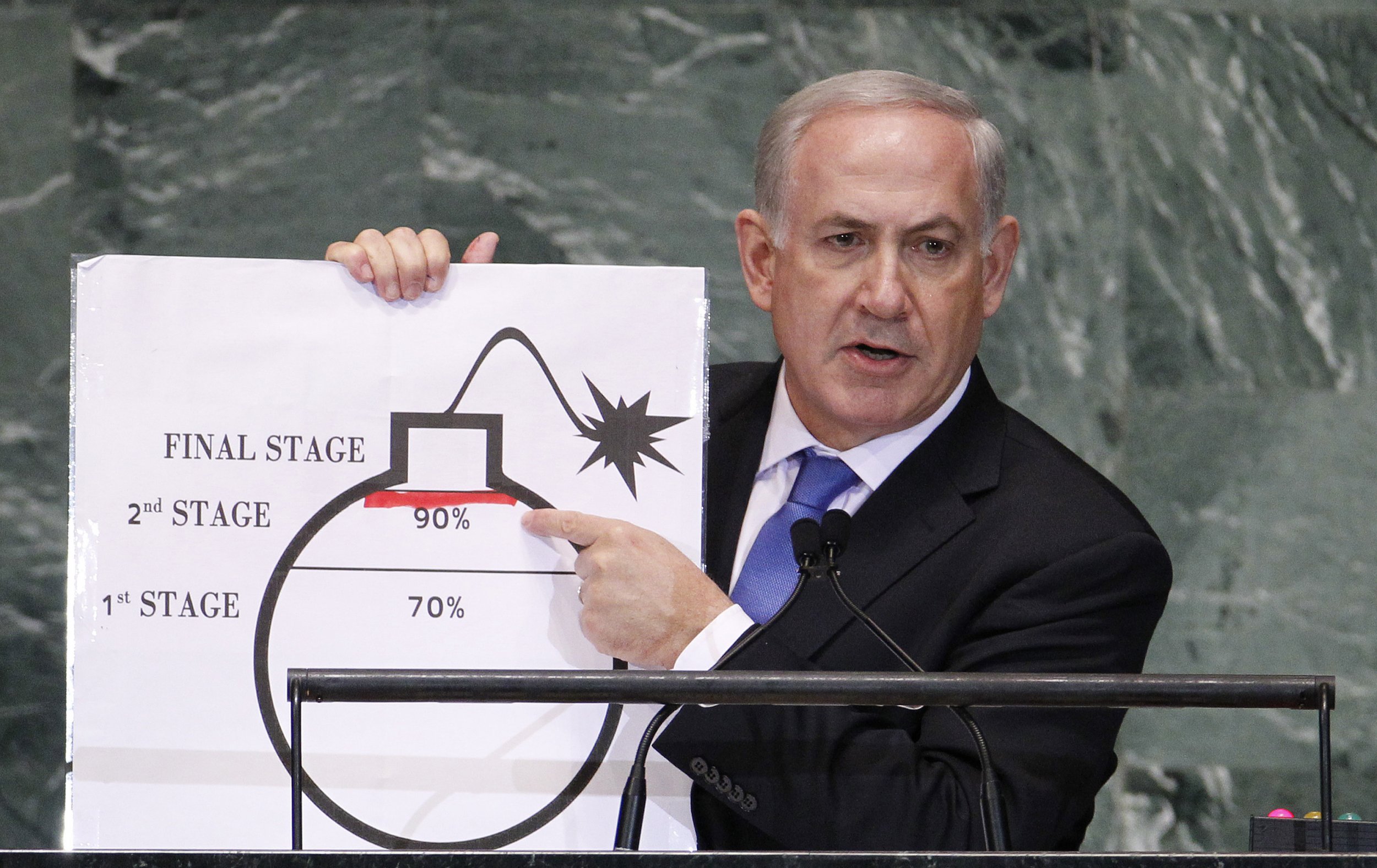 The Obama administration has mocked Israeli prime minister Benjamin Netanyahu over his use of a cartoon bomb diagram in a 2012 address to the United Nations with a similar bomb graphic lauding the framework for a nuclear deal agreed with Iran last week.
Netanyahu has criticised the framework agreement between world powers and Tehran - which outlines the conditions of any deal to be agreed by the end of June - as "a free path to the bomb" which would threaten Israel's survival. He delivered a famous 2012 speech to the UN General Assembly in New York in which he presented a cartoon diagram of how close he believed Iran was to obtaining the nuclear bomb, pointing at the cartoon saying: "This is a bomb; this is a fuse".
Speaking to CNN about the agreed nuclear framework on Sunday, the Israeli leader said: "This is not a partisan issue. This is not solely an Israeli issue. This is a world issue because everyone is going to be threatened by the pre-eminent terrorist state of our time, keeping the infrastructure to produce not one nuclear bomb but many, many nuclear bombs down the line."
However, the White House struck back at Netanyahu's criticism on social media with its own graphic which trumpets the benefits of a nuclear deal and the dangers of not agreeing any deal.
The graphic says that without a deal, the world would see Iran resume "production of highly enriched uranium" with "no limits on stockpile" of enriched uranium and an "unlimited increase and advancement of centrifuges". With a deal, there would be "no production or stockpile of highly enriched uranium" by Iran, with "centrifuges reduced by two-thirds" and the country's uranium stockpile "reduced by 98% and capped", it says.
Relations between Netanyahu and Obama have fallen to their lowest-ever following the Israeli leader's trip to Washington to deliver a controversial speech to the U.S. Congress, accepting an invitation from House of Representatives speaker John Boehner and bypassing Obama. In a blatant snub to Netanyahu, the president hosted a conference call with other world leaders directly in the middle of the Israeli premier's speech.
In an interview with the New York Times' Thomas Friedman last week, Obama said to the Israeli people: "There is no formula, there is no option, to prevent Iran from getting a nuclear weapon that will be more effective than the diplomatic initiative and framework that we put forward. And that's demonstrable."
In Iran, president Hassan Rouhani delivered a televised speech on Thursday in which he said Tehran would only sign a nuclear deal with the world powers - which include the U.S., Germany, France, Britain, Russia and China - if all sanctions imposed on it because of its nuclear activity were lifted.
"We will not sign any deal unless all sanctions are lifted on the same day ... We want a win-win deal for all parties involved in the nuclear talks," Rouhani said. "Our goal in the talks is to preserve our nation's nuclear rights. We want an outcome that will be in everyone's benefit."