White House Official Navarro Accused of Using Taxpayers Money to Campaign for Trump Reelection in Swing States
In what could be considered a violation of the Hatch Act, White House Office of Trade and Manufacturing Director Peter Navarro allegedly created documents specifically for six swing states highlighting President Donald Trump's economic policies, according to Monday reporting by The Daily Beast.
According to the U.S. Office of Special Counsel, the Hatch Act prohibits some federal employees from participating in certain political activities in order to "ensure that federal programs are administered in a non-partisan fashion." The documents produced by Navarro's office did not specifically attempt to entice readers to re-elect Trump.
However, some see the swing state reports as another attempt by Navarro to use his office as a platform to campaign for Trump. Navarro's actions on behalf of the Trump re-election campaign, including television interviews while standing in an official position, have caught the attention of the watchdog group Citizens for Responsibility and Ethics in Washington (CREW) which has called for Navarro to be removed from office.
Economic reports were created for Florida, Maine, Michigan, Minnesota, North Carolina and Pennsylvania. Although the reports are geared specifically to each state by naming businesses and industries localized to those states, all reports refer to Trump as "the greatest jobs President and trade negotiator in history."
In a statement sent to The Daily Beast, the White House said that "any political activity undertaken by members of the Administration" was conducted "in compliance with the Hatch Act."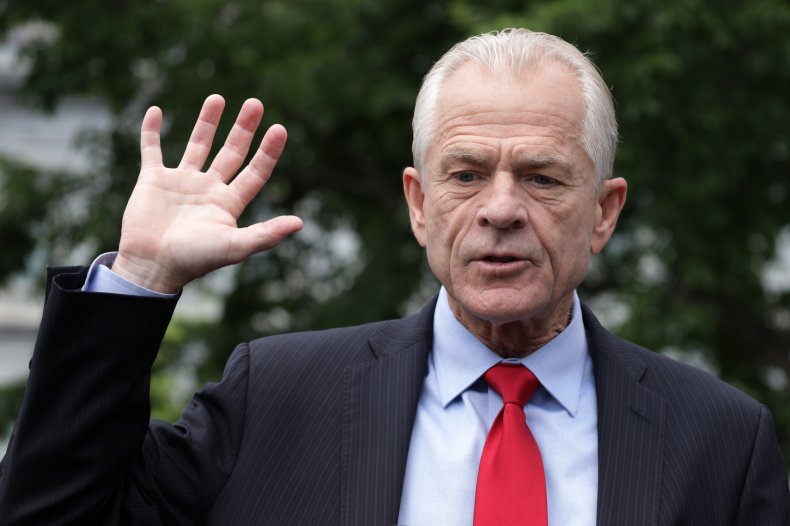 In a statement emailed to Newsweek on Monday, CREW Deputy Director Donald Sherman said that Navarro's "unethical conduct is exactly why the law bars federal employees from using their government jobs for partisan politics."
"Despite a devastating pandemic that has crippled the economies of all 50 states, the White House is ignoring millions of Americans in deep blue and deep red states to help Donald Trump win votes in a handful of swing states," Sherman continued.
Navarro referenced the swing state reports during an October interview with Maria Bartiromo on Fox Business while criticizing Democratic presidential nominee Joe Biden's past foreign policy decisions.
"Biden let China into the World Trade Organization," Navarro said. "We lost 70,000 factories, 5,000,000 manufacturing jobs. We must not forget that. We can bring that stuff back with President Trump."
In a letter sent to the Office of Special Counsel in October, CREW Executive Director Noah Bookbinder claimed that Navarro had "run afoul" of the Hatch Act.
"Mr. Navarro's swing state report and his statements during this interview about that report constituted political activity under the Hatch Act," Bookbinder wrote. CREW's letter also called for a recommendation be sent to Trump that Navarro "be removed from federal service."
Other members of Trump's White House have been accused of violating the Hatch Act including Secretary of State Mike Pompeo. Pompeo's remarks during the Republican National Convention in August were pre-recorded while he was visiting Israel in an official capacity.
Pompeo told reporters in September that his speech was "lawful" and had been reviewed by the State Department.
The Office of Special Counsel began investigating Pompeo in October. In a joint statement confirming the investigation, Chairman of the House Committee on Foreign Affairs Eliot Engel and Chairwoman of the House Committee on Appropriations said that Pompeo "has grown even more brazen in misusing the State Department and the taxpayer dollars that fund it as vehicles for the Administration's, and his own, political ambitions."
While some political observers expected Pompeo to resign as Secretary of State to run for a Senate seat in Kansas in 2020, Pompeo failed to file the proper paperwork in order to run in that state's election.
Updated 9:59 p.m. EST 11/02/2020: This story has been updated with a statement from Citizens for Responsibility and Ethics in Washington (CREW).