White House Official Phones John McCain's Daughter to Apologize for Mocking Her 'Dying' Father
The White House official who mocked "dying" John McCain at an internal meeting on Thursday, called the Arizona Senator's daughter Meghan McCain to apologize later that day.
Special assistant Kelly Sadler made the insensitive comments in response to McCain's opposition to the nomination of Gina Haspel for CIA director. "It doesn't matter, he's dying anyway," she reportedly said.
After news of her remarks broke, Sadler called Meghan McCain, the senator's daughter, and apologized, a source told The Hill.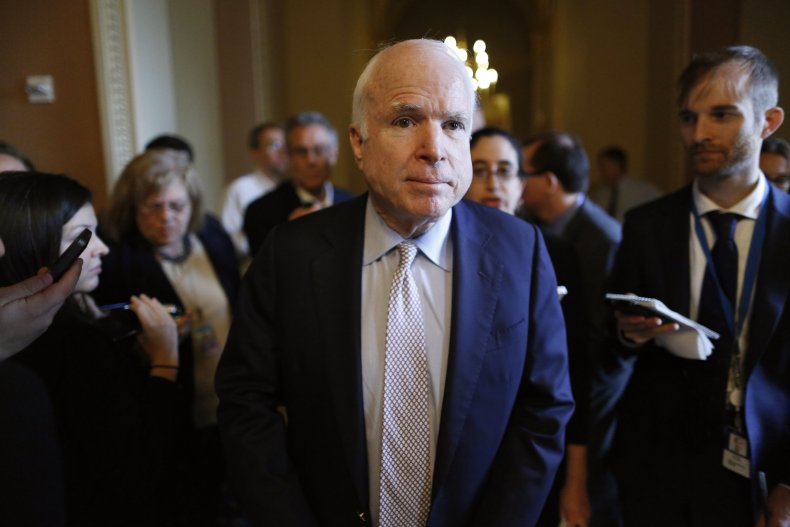 Although Meghan has not publicly offered a response to the insensitive comments or subsequent apology, she did retweet her mother Cindy McCain's post yesterday.
"May I remind you my husband has a family, 7 children and 5 grandchildren," Cindy McCain wrote.
According to The Hill, sources have said that Sadler was joking and meant no harm but her humor fell flat with other officials at the internal White House meeting. The White House has not denied that the comments were made by Sadler.
"We respect Sen. McCain's service to our nation, and he and his family are in our prayers during this difficult time," the White House said in a statement.
Last year, McCain was diagnosed with glioblastoma, a type of brain cancer. Recently he has been in Arizona, receiving treatment and spending time with his family. However, he continues to be a vocal presence in the Senate and GOP.
McCain has made headlines in recent months for his strong criticisms of President Donald Trump. In his new book "The Restless Wave," the Senator revealed his unfavorable feelings towards the president.
"[Trump has] declined to distinguish the actions of our government from the crimes of despotic ones. The appearance of toughness, or a reality show facsimile of toughness, seems to matter more than any of our values. I would like to see us recover our sense that we are more alike than different," McCain wrote.
Trump mocked the war hero in 2015 for being captured after his plane went down while flying over Vietnam. "I like people that weren't captured," he said.