White House Open to Third Gender Option on Federal Forms, Not Certain Executive Order Needed
The White House said Monday it was open to putting a third gender option on federal forms, noting the administration will "fight for equal rights for people."
President Joe Biden marked International Woman's Day by signing two executive orders on gender equity. The first established a Gender Policy Council within the White House. The second action directed the Department of Education to review existing rules to ensure students are guaranteed education free from sexual violence.
During a press briefing on Monday, a reporter asked if Biden and Vice President Kamala Harris "see the value" in signing an executive order to create a third gender option on federal government IDs for those who want them. The reporter noted that the two campaigned on the issue during the 2020 election.
"I haven't looked yet to whether that requires an executive order," Jennifer Klein, the executive director of the White House Gender Policy Council, replied.
She continued, "I would note that we are very inclusive in our definition of gender, and we intend to address all sorts of discrimination, and, you know, fight for equal rights for people, whether that's LGBTQ+ people, women, girls, men. So, you know, that's certainly something that we will look at. But I honestly don't know whether that requires an executive order."
Several areas, including California, Colorado, Indiana, Maryland, Minnesota, Nevada, Utah and Washington, D.C., already have third gender options in place for state-issued IDs and other documents.
During the 2020 presidential race, Biden pledged to build on action taken during the Obama administration "to ensure all transgender individuals have access to identification documents that accurately reflect their gender identity."
His campaign website said, "Biden believes every transgender or non-binary person should have the option of changing their gender marker to 'M,' 'F,' or 'X' on government identifications, passports, and other documentation. He will support state and federal efforts to allow for this accurate representation."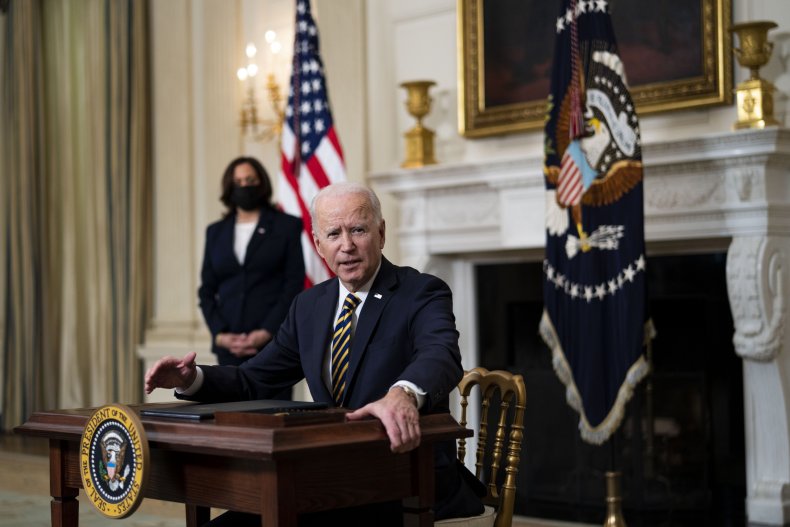 Studies have shown that thousands of transgender people lack identification that reflects who they are. A 2015 U.S. Transgender Survey by the National Center for Transgender Equality found that 46 percent of trans people don't have IDs that list their correct name and gender.
The American Civil Liberties Union has called for Biden to issue "X" gender markers on all federal documents within the president's first 100 days in office. The ACLU said the policy should be done through executive action.
"A warm welcome and thank you to the Gender Policy Council for upholding the White House's commitment to fighting gender-based discrimination, including discrimination against transgender, intersex and non-binary people," Arli Christian, an ACLU campaign strategist, told Newsweek.
Christian added, "Reforming the use of gender markers on IDs and records across the federal government is key to that work, and an executive order is the best way to ensure consistency across all the federal agencies. So far, over 70,000 people have signed on to the ACLU's petition calling for the White House to issue this order. We look forward to continuing our conversations with the White House on this issue."
On Biden's first day in office, the White House updated its website to allow visitors to specify what pronouns they use. The new drop-down menu has "she/her," "he/him" and "they/them" pronoun options. Users can also select "other" and write in their own selections or indicate they "prefer not to share" their pronouns.