Trump vs. the Media: Proposed Law Would Make White House Do Press Interviews on Camera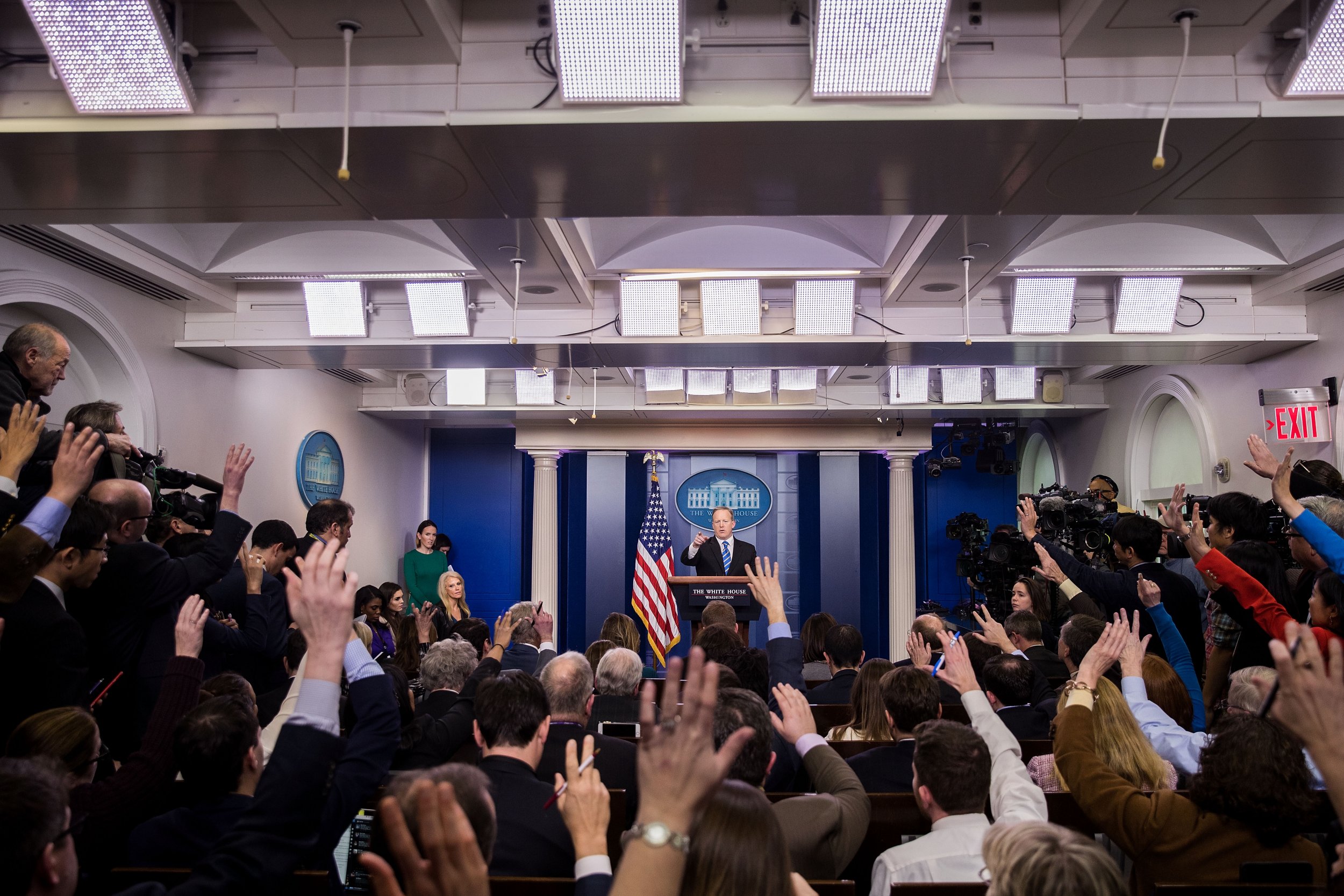 A Connecticut congressman has joined the chorus of people demanding the White House hold more regular on-camera press briefings, and he wants legislation to enforce it.
Representative Jim Himes, a Democrat from Connecticut, introduced a bill last week that would make the Donald Trump administration host at least two media briefings that can be broadcast on video every week. H.R. 3228, nicknamed the Free Press Act, was filed Thursday and refers to the House Committee on Oversight and Government Reform, according to Congress.gov.
"A free and independent press is essential to the survival of a functioning democracy," Himes said in a news release shared with Newsweek. "The media's role is to ask the tough questions on behalf of the American public and work to hold our leaders accountable."
Trump took near-constant questions from the media (and criticized his opponent, Hillary Clinton, when she didn't) during his presidential campaign, but in recent weeks his press team has withdrawn from the public. Press Secretary Sean Spicer, whose fraught relationship with journalists regularly drew high ratings and inspired Saturday Night Live skits, pulled back from daily briefings starting in May. In June, several White House reporters called out the administration for preventing them from even recording live audio of the briefings.
"My guess is because they want their evasive answers not saved for posterity," CNN's Jim Acosta said on air June 19. "If [Spicer] can't come out and answer the questions and they're just not going to do this on-camera or audio, why are we even having these briefings or these gaggles in the first place?"
Himes's statement reflected similar concerns, pointing in particular to a May 12 Trump tweet that suggested "maybe the best thing to do would be to cancel all future 'press briefings' and hand out written responses for the sake of accuracy." The congressman told the CT Post he understood the media could be "annoying" but holds politicians' "feet to the fire" and keeps them accountable.
As of June 20, Trump himself had appeared at 11 news conferences, which averages out to 2.2 a month, according to the American Presidency Project, a nonprofit documents archive.
For context, his predecessor, Barack Obama, held 164 news conferences over eight years, averaging out to 1.71 a month. Before that, George W. Bush held 157 press events, shaking out to 2.18 a month.
Trump vs. the Media: Proposed Law Would Make White House Do Press Interviews on Camera | U.S.