White House Press Secretary Kayleigh McEnany Wildly Exaggerates Trump March Crowd Size
Thousands of Trump supporters have already gathered at Freedom Plaza in Washington, D.C. on Saturday for the 'Million MAGA March,' also known as 'Stop the Steal' and the 'March for Trump,' in support of President Donald Trump and protest the outcome of the presidential election, emphasizing baseless claims of voter fraud.
White House Press Secretary Kayleigh McEnany tweeted photos of the gathering, claiming that more than a "million" Trump supporters were in attendance, despite photos showing a much different version.
"AMAZING! More than one MILLION marchers for President @realDonaldTrump descend on the swamp in support," McEnany tweeted. "Best base in political history — we LOVE you guys!!!"
McEnany told Fox News on Thursday that, although she couldn't estimate a specific number of attendees, she said the event will be "quite large."
The pictures of the event—shared less than an hour before noon when the event was slated to start—showed hundreds of the president's supporters sporting MAGA hats and waving Trump flags.
But McEnany's wildly exaggerated number was met with no shortage of backlash and mockery as people present at the event said the number didn't even come close—but rather came to a few thousand people that filled a city block in D.C. as the event was underway.
"Big @seanspicer energy here. A million people," tweeted Sawyer Hackett, senior advisor to former Obama cabinet member Julian Castro, followed by a crying-laughing emoji. The reply was in reference to former White House Press Secretary Sean Spicer, who infamously asserted that Trump's inauguration crowd in 2017 was "the largest audience to ever witness an inauguration."
Journalist Max Burns tweeted: "The inability to tell the difference between a Thousand MAGA March and a Million MAGA March is another reason Trump lost the counts in GA, PA, MI, AZ, NV and WI."
"This is nowhere near one million people, Kayleigh," writer Jesse Hawken tweeted. "More Americans have died of COVID than are assembled here."
CNN reporter Daniel Dale also tweeted a similar sentiment.
The demonstrators included members of the Proud Boys, an extremist far-right group, with several wearing their signature black and yellow colors, helmets and shirts that read "Stand Back, Stand By" — a reference to comments made by Trump towards white supremacist groups during the first presidential debate.
Many of the president's supporters also carried signs that read, "Count the legal votes," promoting the array of falsehoods that voter fraud influenced the result of the 2020 election that was called for former Vice President Joe Biden on November 7.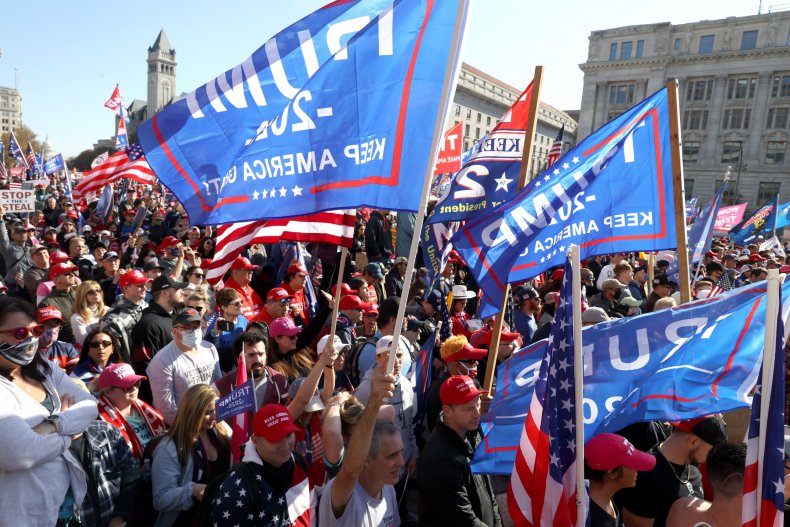 Counter-protesters appeared shortly after noon at the corner of the Freedom Plaza, some holding bright orange signs that said "Refuse Fascism," while another person shouted into a megaphone, "Trump pack your s---. You're illegitimate."
Trump greeted his supporters just after 10 a.m., driving down Pennsylvania Avenue in his motorcade. Videos show the president, who has refused to concede, waving and smiling from inside of his car as people swarmed around the vehicle. He was headed to Trump National in the Virginia suburbs to play some golf, according to The Washington Post.
Many supporters at the event didn't appear to be wearing masks, as coronavirus cases in the U.S. surged to over 175,000 new cases in the past week with record number of hospitalizations.
"Dear @realDonaldTrump: Your #MillionMAGAMarch2020 supporters didn't show up. Looks like only a few thousand people," tweeted California Congressman Ted Lieu, followed by the hashtag, #ItsTimeToConcede.
The president has drawn widespread criticism for publicly refusing to concede or allow a formal transition of power to begin. Republicans, including Secretary of State Mike Pompeo and Senate Majority Leader Mitch McConnell, have supported the president's refusal to concede, while other GOP members such as Iowa Senator Chuck Grassley and Ohio Governors Mike DeWine have publicly considered Biden as the president-elect.
Trump continues to cite legal disputes as the reason for his refusal to acknowledge his loss in the election, and his lawyers continue to go forth with a plan to overturn the election results through multiple lawsuits, despite no evidence to suggest that widespread voter fraud took place.
Newsweek reached out to the White House for comment, but did not receive a response in time for publication.