White House Press Secretary Latest Trump Administration Official to Test Positive for COVID
White House press secretary Kayleigh McEnany tested positive for the novel coronavirus on Monday, making her at least the ninth person around President Donald Trump to become infected.
Four days after Trump confirmed he tested positive, McEnany shared her own diagnosis in a statement, saying she tested positive while experiencing no symptoms. Her positive result came after "testing negative consistently," and she said no reporters, producers or members of the press were listed as "close contacts" by the White House Medical Unit.
Close contact, as defined by the Centers for Disease Control and Prevention, is a person who was within six feet of an infected person for at least 15 minutes from two days before the person was tested or became ill, until they were isolated.
The press secretary has faced criticism for not wearing a mask and reporters noted she wasn't wearing one Sunday at the microphone while briefing reporters on the state of the president's condition. She's defended the decision, as well as that of other officials, citing the frequent testing of people who are in the White House.
McEnany's Thursday press briefing has also come under scrutiny, as it was the day after Hope Hicks, a close aide to Trump, began to feel sick and the same day that she tested positive. In her statement, McEnany said she had "no knowledge" of Hicks' diagnosis prior to the briefing and as an "essential worker" she worked "diligently to provide needed information to the American people at this time."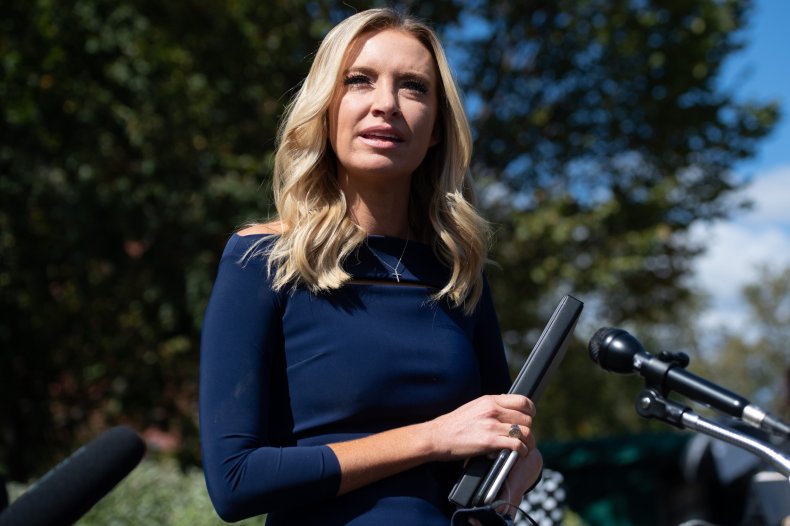 At least eight other people who were around the president in the week leading up to his positive test result have also tested positive. Among them are Senators Thom Tillis and Mike Lee, who are both on the Senate Judiciary Committee and attended an event at the White House for Trump's Supreme Court nominee Judge Amy Coney Barrett, former New Jersey Governor Chris Christie and former counselor to the president Kellyanne Conway.
Those who recently contracted the virus all appear to have mild symptoms, although Christie and Trump were taken to the hospital for monitoring. It's possible Trump could be released from Walter Reed National Military Medical Center on Monday.
Following McEnany's diagnosis, the White House Correspondents Association said in a statement that it wished her and everyone else a "swift recovery." It encouraged members to get tested if they were potentially exposed but said they were not aware of any additional cases among White House journalists.
Given her positive test result, McEnany said, she will enter isolation and work remotely.
This is a developing story and will be updated as more information becomes available.