White House Press Secretary Says Trump 'Stands With' Iran Protesters, Claims Dems Are On 'Side of Terrorists'
White House Press Secretary Stephanie Grisham told Fox News anchor Harris Faulkner Monday that President Donald Trump stands firmly in support of Iranian protesters, but that American Democrats are guilty of "taking the side of terrorists."
Grisham has been press secretary since June 2019, taking the position after the departure of Sarah Huckabee Sanders. During her tenure, she has not held a briefing for members of the news media.
"The president has been pretty clear," Grisham told Faulkner. "He stands with the very brave Iranian people who are protesting their leadership. That's a good thing."
"I think that the president has been very decisive this entire time," Grisham added. "It was because of him that he ordered a targeted strike that took out a terrorist who had an intention to kill a lot of Americans and now he is, again, saying the Iranian people should be allowed to do what they want to do and not be hurt by it."
Faulkner asked Grisham what the meaning was behind Trump's retweet of a manipulated photo of House Speaker Nancy Pelosi and Senate Minority Leader Chuck Schumer which portrayed them in traditional Islamic clothing and standing before an Iranian flag.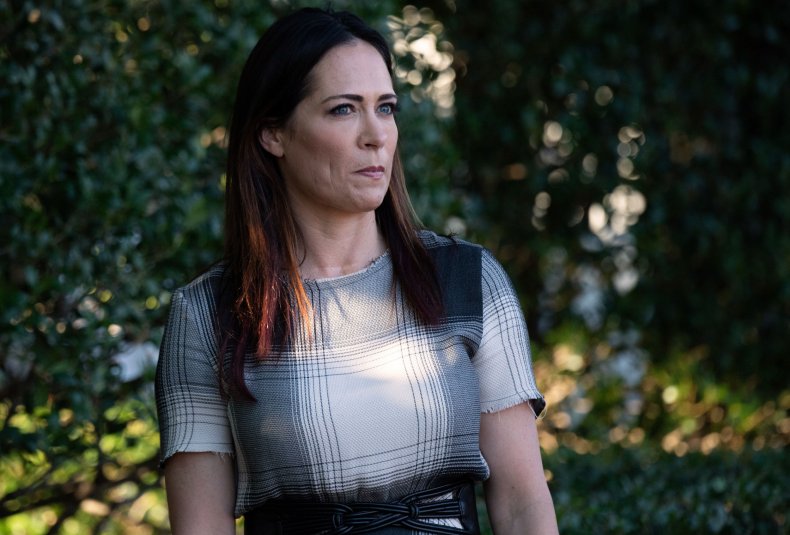 "I think the president is making clear that the Democrats have been parroting Iranian talking points and almost taking the side of terrorists and those who are out to kill the Americans," Grisham said. "I think the president was making a point that the Democrats seem to hate him so much that they are willing to be on the side of countries and leadership of countries who want to kill Americans."
Newsweek reached out to the White House for comment but did not receive a response in time for publication.
Grisham said that Iranian protests were a sign of Trump's leadership.
"The president has made so clear that he is with the Iranian people and the Iranian people have been chanting that America they thought was the enemy and that they had been lied to," Grisham said. "There was an American flag put on the ground that people are actually walking around. That is because of this president's leadership. If anything, it's the Democrats who should be on the side of this president and rejoicing that a terrorist was killed and that these Iranian people have a real opportunity to do good things with their country."
Grisham addressed an open letter signed by former White House press secretaries calling for the reinstatement of regular press briefings which said in part, "Knowing there are briefings scheduled is a powerful incentive for administrative officials to complete a policy process on time."
"I think the notion that policy would be done on the fact that press briefings would be held is quite silly," Grisham said.
"I also think that in this day and age with a president who is so unorthodox in politics and who has really rewritten the rules on politics, he talks to the American people via Twitter every single day," Grisham said. "And he talks to the press constantly during the week. Constantly."
"Press briefings should be in the absence of the president and the president is just not absent," Grisham added. "And I would say to those former White House press secretaries, they know this to be true. This president has probably spoken directly to the press more than all of their bosses combined."