White House Press Secretary Stephanie Grisham Reportedly Involved in Scuffle With North Korean Security at DMZ
Incoming White House Press Secretary Stephanie Grisham was reportedly involved in a tense clash with North Korean security officials on Sunday while trying to position White House press for a photo opportunity of North Korean leader Kim Jong-Un and President Donald Trump.
The clash, which was partially recorded on audio and video, took place moments after Trump became the first sitting U.S. president to cross the demilitarized zone into the "hermit kingdom" of North Korea.
According to The Washington Post and several reporters on the scene, the fracas started when North Korean guards attempted to block entry to the press corps and Grisham came over to intervene.
"New WH Press Secretary Stephanie Grisham got into a scuffle with the North Koreans to move members of the WH press pool into position to cover Trump and Kim, I'm told," CNN's Jim Acosta reported via his Twitter account. "Grisham was a bit bruised. Source called it 'an all-out brawl.'"
Acosta's home network also played video and audio of the fracas on Sunday. Grisham, whose tenure as press secretary started this week, can be seen walking up behind North Korean guards, who are blocking press from proceeding into the building. She makes room for a press photographer to pass by the security guard. A remaining audio feed then captures a voice that appears to be Grisham's saying, "No, let go. Stop. I need help here."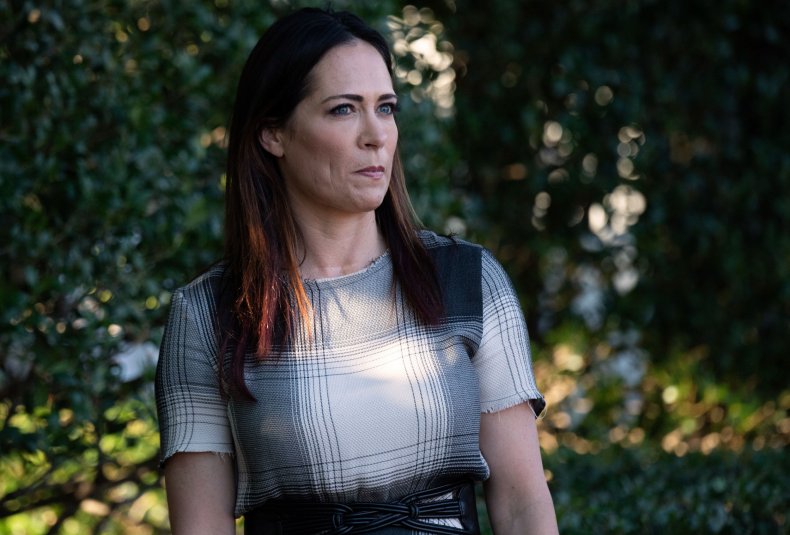 The White House did not release a statement or immediately respond to a request for comment on the situation. Jennifer Jacobs, a senior White House reporter for Bloomberg, said the incident came to "body blows" inside the Inter-Korean House of Freedom, where Trump and the North Korean dictator were meeting.
"New WH press secretary Stephanie Grisham threw herself into it to make sure the US TV camera got into House of Freedom, and it came to body blows."
Planned at the tail-end of Trump's visit to Japan for the G-20 summit of world leaders, the unprecedented crossing of the DMZ was followed by a 50-minute talk with Kim that sparked divided reactions from leaders and experts in North Korean affairs.
The meeting marked the third discussion between the two leaders since Trump took office in 2016. However, it was unclear when, or if, the rendezvous will amount to the desired denuclearization of North Korea. Trump's last summit with Kim in February ended suddenly with nixed negotiations after North Korea refused to make concessions regarding its weapons program.
"We're not looking for speed, we're looking to get it right," Trump said after this latest outing.