White House Promises First Rollouts of Free, At-Home COVID Tests in the 'Coming Weeks'
The White House Monday provided an updated timeline for its 500 million free, at-home testing kits.
Press secretary Jen Psaki told reporters that the administration will "start to have tests out the door in the coming weeks, very soon."
"The contracts are structured in a way to require that significant amounts are delivered on an aggressive timeline, the first of which should be arriving early next week," Psaki said. "We expect to have all contracts awarded over the next two weeks, and then Americans will begin being able to order these tests online later this month. We also expect to have details on the website as well as a hotline later this week."
President Joe Biden pledged the half-billion tests last month as part of the administration's battle to fight the highly-transmissible Omicron variant, along with sending troops and other support staff to overburdened hospitals.
But the administration has faced questions on why it didn't act sooner to bulk up production of testing before the winter surge. Washington D.C., New York and other cities have reported long lines and wait times for in-person testing as centers face staffing issues, and at-home kits are flying off the shelves at pharmacies.
Shortages of over-the-counter tests have led to price gouging and scams. New York Attorney General Letitia James said her office was getting reports of at-home kits selling for double or triple their retail price.
Biden told ABC News host David Muir that he wished he'd thought of ordering the tests sooner.
"You could argue that we should have known a year ago, six months ago, two months ago, one month ago," the president said.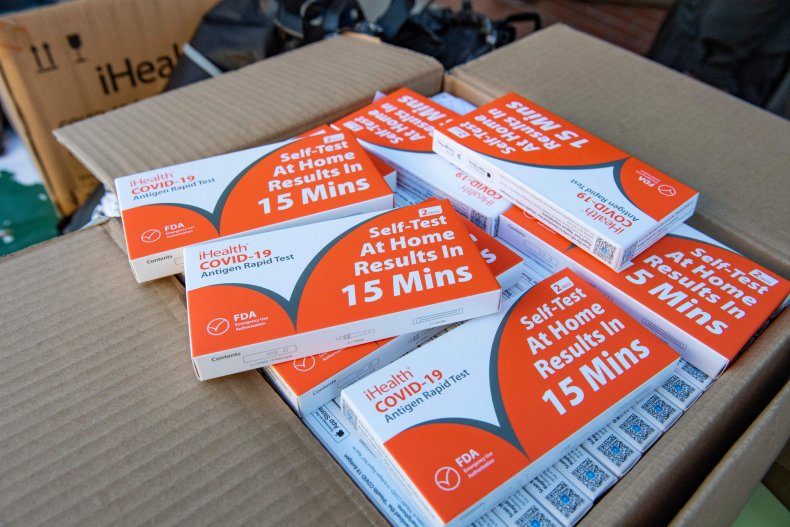 Omicron has led to record-levels of cases across the U.S. One million Americans tested positive for the virus last Monday, which was a new global milestone. Reuters reported that more people are hospitalized with the virus than ever before. On Monday, 132,646 people were in the hospital who were infected with the virus.
Psaki continued to defend the administration's handling of testing on Monday, noting that the administration has also opened 20,000 federal testing sites around the country. The White House will also soon release more details on how insured Americans can be reimbursed for COVID-19 tests they purchase on their own.
"There's been an unprecedented demand for tests," she said.
The U.S. Postal Service will handle fulfillment and shipment of tests to Americans' doorsteps, officials said. But additional details on how many tests someone can order and what brand they will receive are still unclear.