White House Proposes Limits on Use of Military Equipment by Police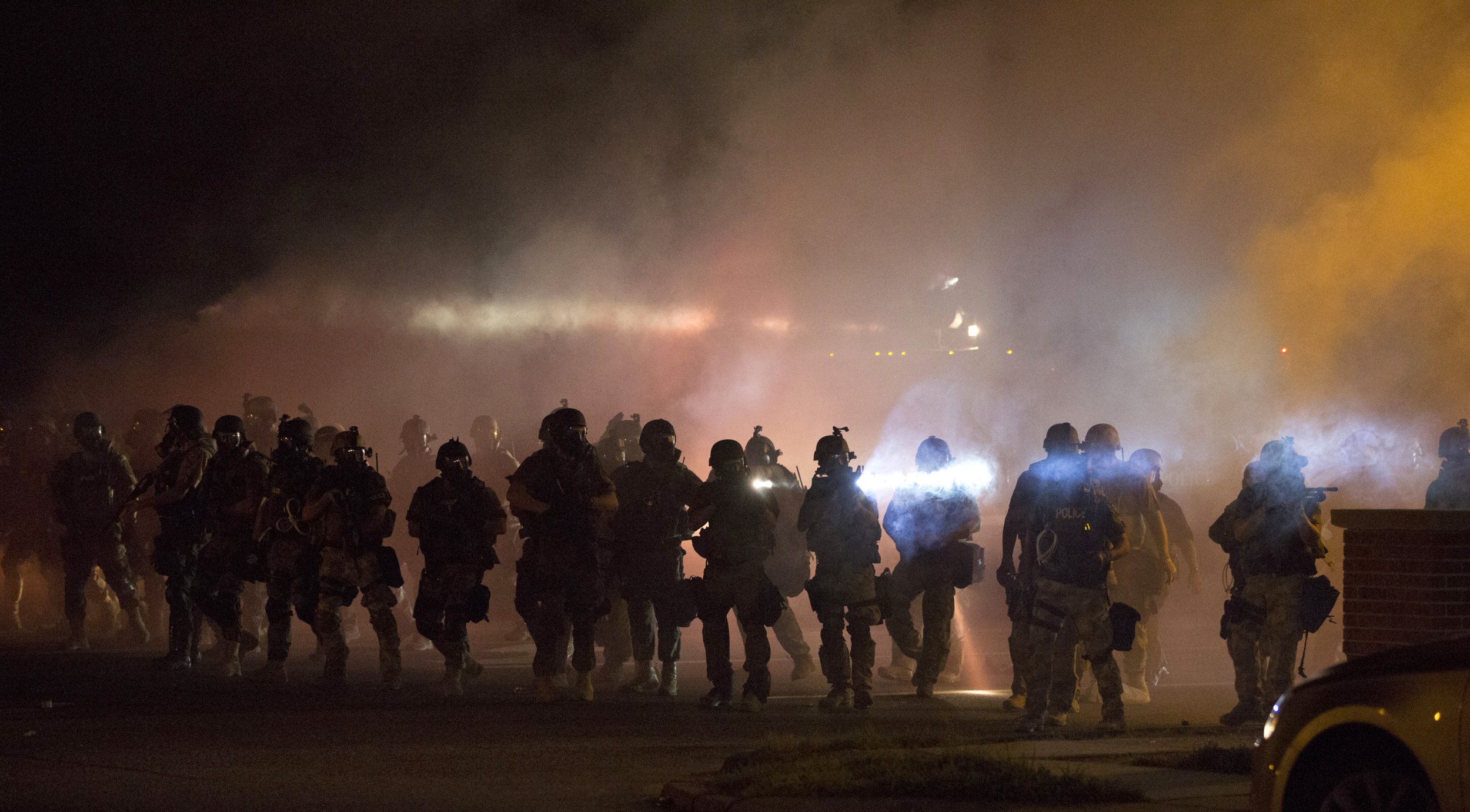 A White House working group on Monday announced new proposed restrictions to the flow of some types of military equipment from the armed forces to police. If approved by President Barack Obama, the restrictions will go into effect October 1, 2015.
The news was first reported by The Hill.
The Law Enforcement Equipment Working Group was established by President Obama in January 2015 in response to what many saw as the Ferguson police department's overly aggressive, military-style response to protests following the August death of unarmed black teenager Michael Brown.
Since 1996, police departments have been allowed to obtain equipment from the U.S. military at significantly reduced prices through a federal acquisitions program. At the height of the Missouri protests, Ferguson police outfitted in military-style camouflage deployed mine-resistant, ambush-protected (MRAP) vehicles, sniper rifles and grenade launchers acquired through this program.
The report clarifies that only military-style equipment obtained through federal programs or paid for with the help of federal grants will be affected by the proposed restrictions; equipment acquired by other means will not be subject to additional regulations. Police will presumably still be allowed to acquire military-style equipment directly from manufacturers.
The working group proposed banning outright the transfer of some types of equipment, including tracked armored vehicles, 'weaponized' vehicles, firearms and ammunition of .50 caliber or higher, grenade launcher, bayonets and camouflage uniforms. There is "substantial risk of misusing or overusing these items, which are seen as militaristic in nature, could significantly undermine community trust and may encourage tactics and behaviors that are inconsistent with the premise of civilian law enforcement," the group wrote in its report.
The group also proposed controlling the transfer of other types of equipment, including certain types of aircraft, unmanned drones, wheeled armored vehicles such as the mine-resistant MRAPs, 'specialized' firearms and ammunition, explosives and pyrotechnics (including 'flash-bang' grenades) and riot and breaching equipment. These items, while they may have "significant utility for law enforcement operations," could be seen as "militaristic in nature," the group found. To acquire a so-called 'controlled' item, law enforcement agencies will have to provide "expanded justification for its acquisition, including a description of how the equipment would be deployed, the agency's policies and protocols on deployment, and verification of training provided to [law enforcement agencies] on the appropriate use of such controlled equipment," the group said.
In addition to limiting access to military-style equipment, the White House also stipulated that law enforcement agencies must receive proper training on the use of controlled equipment and keep records any time a controlled item is used during a "significant incident." According to the report, a "significant incident" is defined as:
(a) a violent encounter among civilians or between civilians and the police; (b) a use‐of‐ force that causes death or serious bodily injury; (c) a demonstration or other public exercise of First Amendment rights; or (d) an event that draws, or could be reasonably expected to draw, a large number of attendees or participants, such as those where advanced planning is needed.
President Obama is expected to discuss the report Monday during a scheduled appearance in Camden, New Jersey.