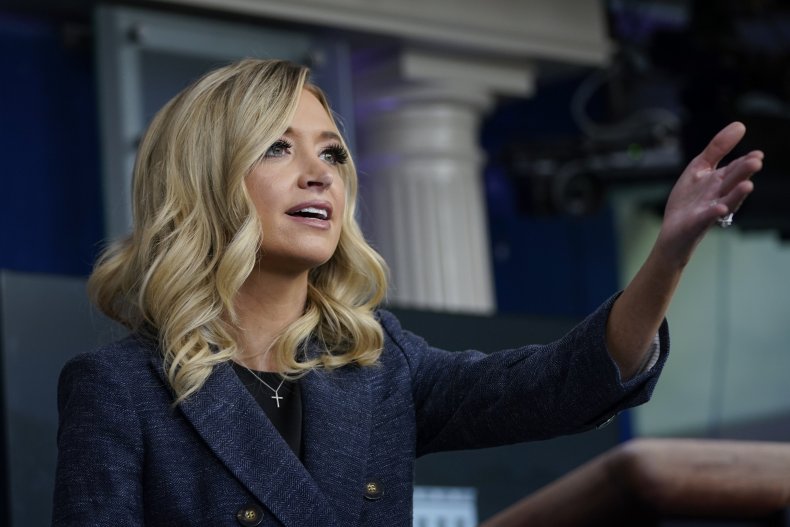 In a hastily-called press briefing Tuesday, the White House shot back at a weekend New York Times report that President Donald Trump was briefed on a reported Russian-backed bounty for U.S. soldiers earlier this year but took no action.
White House Press Secretary Kayleigh McEnany didn't directly dispute the contents of the report—that Russians were paying Afghan insurgents to target American troops—but she denied that Trump was ever briefed on the subject. She also said the leaking of classified intelligence puts the nation at risk.
"This intelligence still has not been verified and there is no consensus among the intelligence community," she said.
The Times reported Friday that Trump had been informed about the covert operation months ago but had not taken action.
On Twitter, Trump denied that he had been told about what he described as "so-called attacks" and said "there have not been many attacks on us."
Tuesday's press briefing was called less than an hour before it began, as pressure mounts for the White House to respond to the accusations.
The White House briefed some House Republicans on it Monday, but members have been calling for more information and House Speaker Nancy Pelosi (D-California) penned a letter to intelligence officials seeking more information about what the president knew.
"The questions that arise are: was the president briefed, and if not, why not, and why was Congress not briefed," she wrote in her letter to Director of National Intelligence John Ratcliffe and CIA Director Gina Haspel. "Congress and the country need answers now."
McEnany took a sharp tone in the news briefing, discussing the danger that leaks could pose for national security.
"The president has been briefed on what is unfortunately in the public domain because of the New York Times and the irresponsible leaks," she said. "I'm not going to let the New York Times dictate when we give top secret information and don't give top secret information."
Trump has faced backlash since the weekend reports, over questions of whether he has kept up with national security briefings or was aware of the danger. The Times reported that Trump had access to the information at least by March but hadn't acted. McEnany denied that claim and said Trump previously wasn't made aware because it had not been verified.
"This report makes it more difficult to come to a consensus on this matter and verify intelligence," she said.