White House Ramps Up Effort to Contain Coronavirus After Staffers Test Positive
The White House is scrambling to contain the spread of the coronavirus after multiple staffers have tested positive, with a new directive requiring most officials to wear masks in the West Wing.
The Associated Press reported on Monday that a circulated memo directed officials to wear masks while in the West Wing. The Washington Post also reported that the directive had been put out, although it noted that aides suggested President Donald Trump was unlikely to begin wearing a mask. A White House official confirmed the news to Newsweek in an email.
The memo came after close aides to Trump and Vice President Mike Pence tested positive for the virus in recent days. Katie Miller, Pence's press secretary, entered quarantine after testing positive this past Friday. That news broke a day after CNN first reported that a Navy member who served as a valet to the president also tested positive.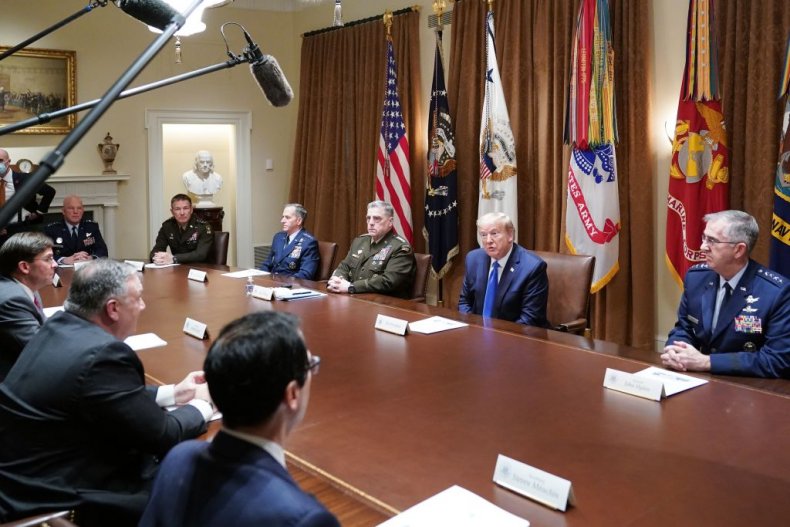 Pence has declined to go into quarantine, despite his aide testing positive. Both the president and vice president have tested negative multiple times in the days following the positive tests for the two staffers.
"Vice President Pence has tested negative every single day and plans to be at the White House tomorrow," Devin O'Malley, a Pence spokesperson, said Sunday night, The Guardian reported.
Kevin Hassett, a top economic adviser to the president, commented on the White House situation in a Sunday interview with CBS News.
"It is scary to go to work," he said. "I think that I'd be a lot safer if I was sitting at home than I would be going to the West Wing."
Trump, Pence and other administration officials have faced scrutiny and criticism for failing to follow social distancing guidelines put out by the U.S. Centers for Disease Control and Prevention. At the beginning of April, the CDC advised Americans to wear face masks, particularly when they were required to go into crowded areas. But Trump downplayed that guidance when it was given.
"With the masks, it's going to be really a voluntary thing. You can do it, you don't have to do it. I'm choosing not to do it, but some people may want to do it and that's OK," he said April 3.
Meanwhile, Trump continues to encourage states and local leaders to push to reopen their economies even as the virus continues to spread throughout the country. The U.S. recorded more than 20,000 new cases on Sunday, down from more than 27,000 on May 8.
Overall, the U.S. has had more than 1.37 million cases of the virus. More than 214,000 people have recovered, while over 80,000 have died.