White House Reporters Self-Isolating After Three Test Positive for COVID
A day after Republican President Donald Trump announced that he had tested positive for COVID-19, three journalists who work at the White House have also tested positive. In response, news outlets have begun testing and isolating journalists who may have been exposed.
One of the journalists was at the White House as recently as last Saturday and had traveled on Air Force One to Pennsylvania since then.
According to a report by the Pittsburgh Post-Gazette, memos issued Friday by the White House Correspondents Association (WHCA) revealed that three unnamed journalists had contracted coronavirus.
One of the individuals began experiencing symptoms last Wednesday, and another began experiencing symptoms on Thursday. In response, the WHCA alerted its members to also get tested, especially since members of the White House press corps often work indoors and in close proximity to one another.
"Given these positive cases, the president's diagnosis and positive cases among other members of the White House staff, a number of White House journalists are self-isolating pending diagnostic testing," the WHCA told its members in a Friday night email, according to the Post-Gazette.
Spokespeople from The Washington Post, CBS and NBC told the Post-Gazette that they will conduct contact tracing, testing and quarantining for their White House correspondents to reduce the possibility of a COVID-19 outbreak among their journalist teams.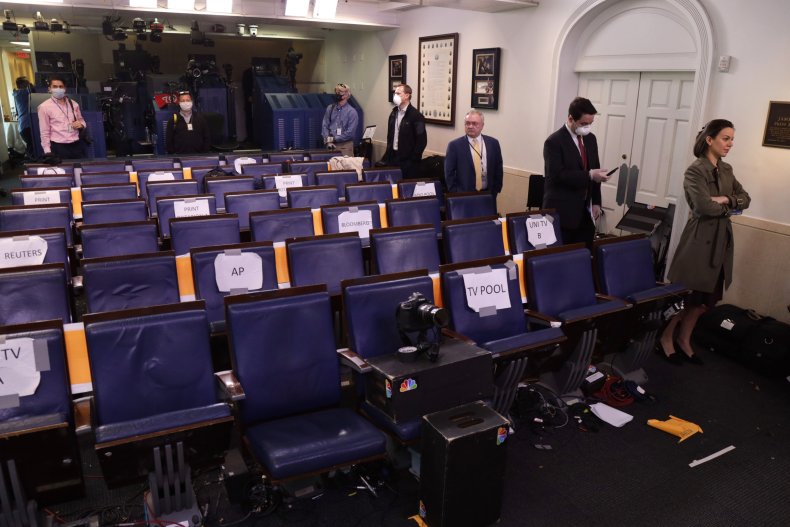 Most of the White House press briefings occur in the James S. Brady Press Briefing Room in the White House. The room seats 49 reporters, and other attending journalists and officials sometimes stand along the walls or in the back of the room.
Reports of the three infected journalists came less than 24 hours after the president announced his infection.
White House Press Secretary Kayleigh McEnany has said that the White House medical staff has begun contact tracing to notify and quarantine any journalists, staff and other individuals who came into contact with Trump, the first lady or Trump's senior advisor Hope Hicks. Hicks was revealed as positive for COVID-19 on Thursday evening.
On Friday evening, Trump was transported to the Walter Reed National Military Medical Center in Bethesda, Maryland to receive more testing and treatment.
Trump has long had an embittered relationship with the press, referring to them as "the enemy of the people" and peddlers of "fake news." In late July, a Newsweek analysis of Facebook's Ad Library found that Trump had run nearly 16,000 Facebook advertisements discrediting the mainstream media as "fake news" since May 2018.
In mid-June, Tennessee's Republican-led House of Representatives passed a resolution specifically stating that "the mainstream media has sensationalized the reporting on COVID-19 in the service of political agendas."
Newsweek contacted the WHCA for comment.