White House's Hogan Gidley Claims Trump Admin Is 'Working With' ICE to Send Undocumented Migrants to Sanctuary Cities
Amid confusion about whether President Donald Trump would move forward with his plan to send undocumented immigrants to sanctuary cities, his deputy press secretary claimed Saturday night that the administration was already in the process of trying to "make sure" that the divisive immigration plan comes to fruition.
White House Deputy Press Secretary Hogan Gidley said during an appearance on Fox News show Justice with Judge Jeanine said that the administration was looking at how it could legally release apprehended migrants into sanctuary cities.
"They have said they wanted all of these illegal aliens into their communities," Gidley said, referring to local elected officials who support sanctuary policies. "We're working with DHS, we're working with ICE, to try and make sure that happens because after all, it's what they want."
Gidley added that Trump was attempting to "work with" Democrats to "try and figure out exactly the best way to transport" undocumented migrants. Immigrations and Customs Enforcement reportedly rejected the suggestion due to budgetary and liability concerns.
Newsweek has reached out to the department for comment.
The murky plan has been denounced by Democrats in both New York and California, where local electeds argue that Trump's latest agenda is little more than a tactic to punish his political foes.
"The extent of this Administration's cynicism and cruelty cannot be overstated," read a statement from Sen. Nancy Pelosi's office. "Using human beings—including little children—as pawns in their warped game to perpetuate fear and demonize immigrants is despicable, and in some cases, criminal."
Meanwhile, on Twitter, Trump first denounced The New York Times for its reporting on the topic.
"The New York Times Sanctuary Cities/Immigration story today was knowingly wrong on almost every fact," Trump tweeted at 7:30 p.m. "They never call to check for truth. Their sources often don't even exist, a fraud. They will lie & cheat anyway possible to make me look bad. In 6 years they will be gone........"
He appeared to change course in several follw up tweets that urged sanctuary cities to "take care" of its undocumented population, once again referring to swaths of immigrants as "criminals."
"Democrats must change the Immigration Laws FAST," he wrote shortly after 8 p.m. "If not, Sanctuary Cities must immediately ACT to take care of the Illegal Immigrants and this includes Gang Members, Drug Dealers, Human Traffickers, and Criminals of all shapes, sizes and kinds. CHANGE THE LAWS NOW!"
Shortly before 10 p.m., he demanded that so-called sanctuary cities shoulder the cost and care of undocumented immigrants.
"Just out: The USA has the absolute legal right to have apprehended illegal immigrants transferred to Sanctuary Cities," he wrote. "We hereby demand that they be taken care of at the highest level, especially by the State of California, which is well known or its poor management & high taxes!"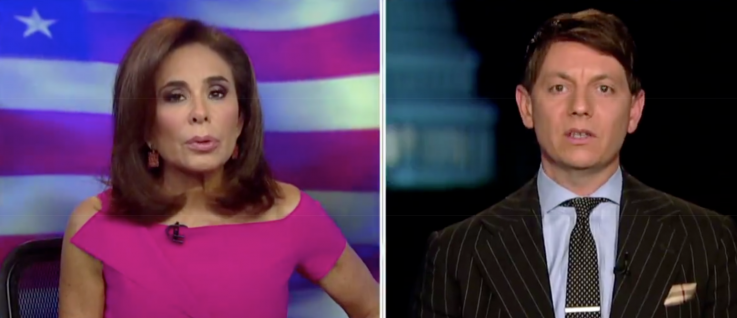 White House's Hogan Gidley Claims Trump Admin Is 'Working With' ICE to Send Undocumented Migrants to Sanctuary Cities | U.S.