White House Says 'Facts and Statistics' Back Up Trump's Claim That 99% of COVID-19 Cases Are Harmless
White House Chief of Staff Mark Meadows on Monday doubled down on President Donald Trump's Saturday claim that "99 percent" of coronavirus cases are harmless, with Meadows even questioning public health experts who disagree.
Meadows defended Trump's remark which the president made at a July 4 celebration Saturday, declaring 99 percent of COVID-19 cases are "totally harmless," a claim which has been widely disputed by scientists and lawmakers from both parties.
Speaking on Fox & Friends this morning, Trump's chief of staff said "the facts and statistics" back up the 99 percent harmless claim and that most cases are asymptomatic.
"I'm not sure which public health experts you're talking about, I probably get to review more numbers, and when you look at the facts, when you look at what we're really dealing with, a lot of these cases are asymptomatic," Meadows told reporters outside the White House following the Fox News interview.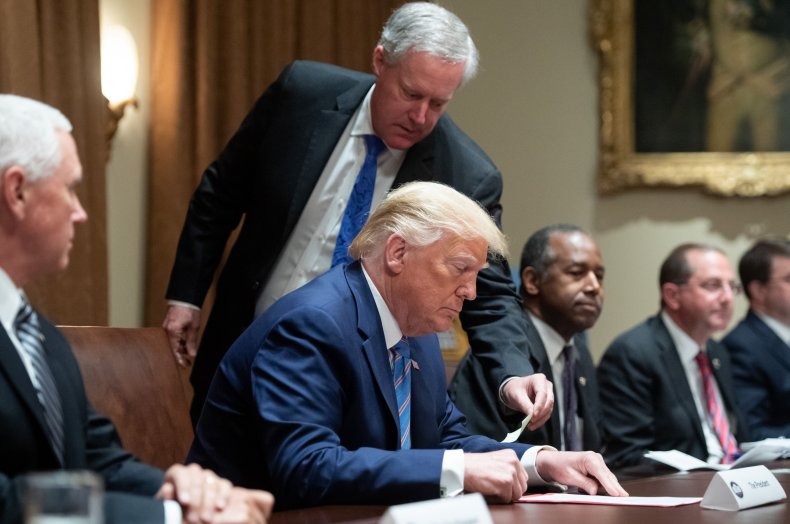 "Additionally, when we look at a population of over 325 million people and what we're looking at, those statistics would indicate about 102 percent—when that 99 percent came from actual numbers. You can look at numbers a number of different ways," he continued.
Meadows said a "vast majority" of people under 65 years of age are at minimal risk unless they have a co-morbidity such as obesity—a condition that the CDC says affects 42.5 percent of the entire U.S. population. He added that other illnesses are far more dangerous than COVID-19 and that deaths in nursing homes are spiking the national statistics.
Fox & Friends co-host Brian Kilmeade offered Meadows an out in defending Trump's "99 percent" claim, but the chief of staff declined and doubled down.
"Where did [Trump] get that stat from, or is that a generalization?" Kilmeade asked Meadows.
"No no, I don't even know that it's a generalization when you start to look at the stats and all the numbers we have, the amount of testing we have, the vast majority of people are safe from this," Meadows said.
"If you're over 80 years of age or if you have three, what they call co-morbidities, diabetes, hypertension, heart issues, then you need to be very, very careful. Outside of that the risks are extremely low and the president's right with that and the facts and the statistics back us up there."
Meadows also defended an upcoming Trump rally to be held in New Hampshire, as well as the recent Tulsa rally in which several members of their advance team contracted coronavirus. "I'm not aware of anything that came from the Tulsa rally," he said. "We allow that freedom to take place."
CBS News reported Sunday that Dr. Anthony Fauci has not been approved for interview requests in three months. But Fauci spoke to the Journal of the American Medical Association recently and said coronavirus cases may actually be mutating and getting worse for many Americans—not less harmful.
"The data is showing there's a single mutation that makes the virus be able to replicate better and maybe have high viral loads," Fauci said. "We don't have a connection to whether an individual does worse with this or not; it just seems that the virus replicates better and may be more transmissible."
Newsweek reached out to the White House Monday for an additional remarks but did not receive a response in time for publication.