White House Says FBI Findings Do Not Support Allegations Against Kavanaugh
The White House has reportedly found nothing to corroborate allegations of sexual misconduct against Supreme Court nominee Brett Kavanaugh in its review of reports from the FBI investigation this past week into the claims.
Citing people familiar with the matter, The Wall Street Journal reported that the White House made the determination after reviewing documents from the FBI, but the Journal said it was unclear whether the White House review was complete.
White House spokesperson Raj Shah said in a statement early Thursday morning that the government had received the FBI's "supplemental background investigation into Judge Kavanaugh" and said it was "being transmitted to the Senate."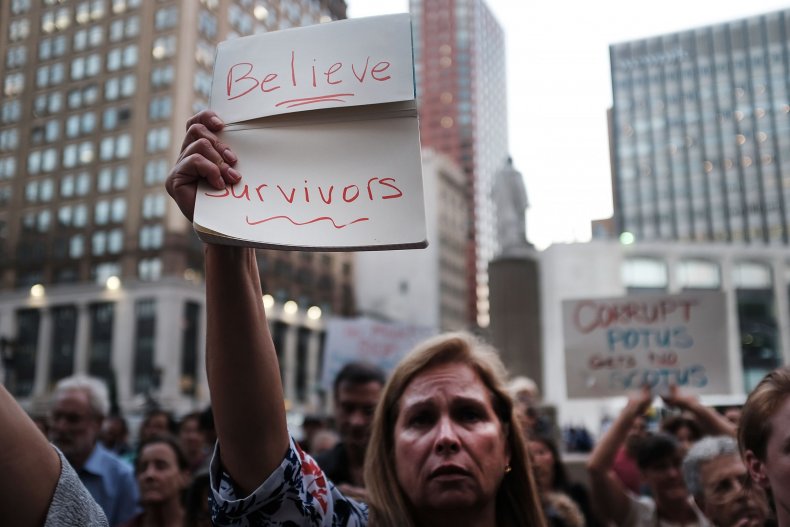 Shah said senators "have been given ample time to review this seventh background investigation," adding: "With this additional information, the White House is fully confident the Senate will vote to confirm Judge Kavanaugh to the Supreme Court."
President Donald Trump reiterated his support of his Supreme Court pick, tweeting: "Wow, such enthusiasm and energy for Judge Brett Kavanaugh," adding that the nominee was a "fine man and great intellect."
On September 27, both Kavanaugh and Christine Blasey Ford, who has accused the Supreme Court nominee of sexually assaulting her during a house party in 1982 when both were in high school, testified before the Senate Judiciary Committee.
In addition to Ford's claims, other women have come forward to accuse Kavanaugh of sexual misconduct. Not long after Ford made her allegations public, Deborah Ramirez accused Kavanaugh of having thrust his genitals in her face at a party in the 1980s when both were students at Yale University, and Julie Swetnick came forward to make sweeping accusations that Kavanaugh had been part of a group of teenage boys who sought to spike high school girls' drinks in order to sexually assault them in "gang rape" attacks.
Kavanaugh has denied all of these allegations.
Read more: Here are the witnesses the FBI interviewed in Brett Kavanaugh Investigation—and the many they didn't
While the FBI interviewed key players in its investigation into the accusations against Kavanaugh, it did not speak with Ford or Swetnick, a decision condemned by Ford's legal team.
Swetnick's attorney, Michael Avenatti, released a sworn statement from a new unnamed accuser on Wednesday morning, backing Swetnick's claims, but he said neither of his clients had been contacted by the FBI.
Senators are expected to review the FBI's findings on Thursday in a "secure location," according to the Journal.
Three moderate Republicans, Jeff Flake of Arizona, Susan Collins of Maine and Lisa Murkowski of Alaska, have said that they would give strong consideration to the FBI's findings in deciding whether to vote yes or no on Kavanaugh's nomination.