White House Says GOP Using Students as 'Pawns' With 'Don't Say Gay' Bill
The White House is weighing in on the Republican-led effort to advance a controversial bill in Florida—which seeks to ban discussions about sexual orientation and gender identity from classrooms—and criticizing the GOP for treating students as "pawns" by drafting such legislation.
In a Tuesday statement about the so-called Don't Say Gay Bill, the White House told Newsweek, "Every parent hopes that our leaders will ensure their children's safety, protection, and freedom. Today, conservative politicians in Florida rejected those basic values by advancing legislation that is designed to target and attack the kids who need support the most—LGBTQI+ students, who are already vulnerable to bullying and violence just for being themselves."
The administration added that it was not an isolated action, but a move seen across the country by Republican leaders who are trying "to regulate what students can or cannot read, what they can or cannot learn, and most troubling, who they can or cannot be."
Two bills moving through the state legislature, HB 1557 and SB 1834, are seeking to prohibit schools from encouraging classroom discussion about sexual orientation or gender identity in primary grade levels or in a manner that is not "age-appropriate."
"This is politics at its worse, cynically treating our students as pawns in a game and not people who deserve love and respect," the White House said. "At every step of the way, Republicans have peddled in cheap, political attacks, instead of focusing on the issues parents, students, and teachers care about."
On Tuesday in Florida, the Senate Education Committee passed SB 1834 in a 6–3 vote. The state's House Education & Employment Committee already moved its bill forward to the Judiciary Committee earlier last month.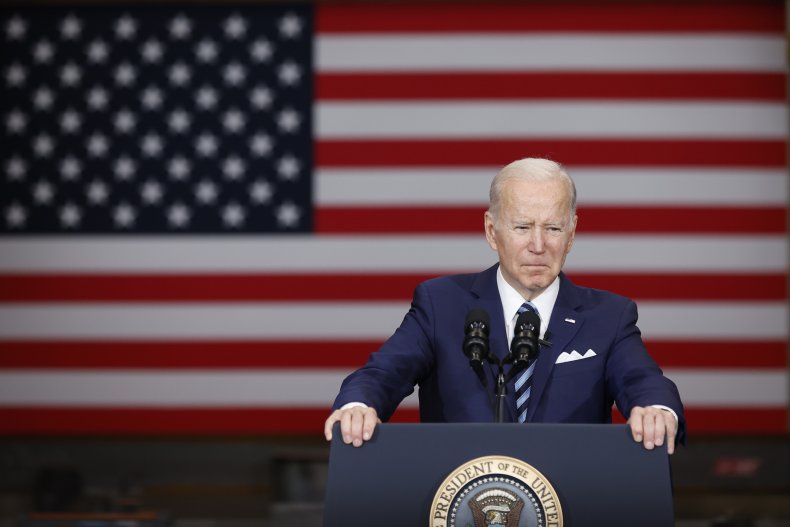 The Senate vote comes just a day after Florida Governor Ron DeSantis said it would be "entirely inappropriate" for teachers to discuss gender identity with their students.
During a press event on Monday, DeSantis said that some children are being taught, "Don't worry, don't pick your gender yet."
"You're injecting these concepts about choosing your gender—that is just inappropriate for our schools. And so I don't support that going on," he said. "I don't think it's going on in large numbers, but I'll tell you, since this debate has started, people have reported to me that this has happened in areas that you would not expect it to happen. And so, we want to make sure that our schools are really focusing on the basics."
Subsequent to publication DeSantis wrote to Newsweek that he feels those remarks misrepresented what he meant, saying his comments were directed about parents rights in general and that he hasn't seen or read seen any bill thus far.
"I didn't say anything about any bill. They just asked me about generally about parents rights. I haven't seen any bill," the governor said on Tuesday.
"One of the things that I think the legislatures are getting at is everything should be age appropriate," he added. "And I think some would say even these young kids, elementary school kids, I think that's wrong to have them being involved with things that aren't age appropriate. I haven't looked at any particulars of anything, but I do think you've seen instances in which kids are encouraged to be doing stuff with like a gender ideology.
"At the end of the day, you know, my goal is to educate kids on the subjects, math, reading, science, all the things that are so important. I don't want the schools to kind of be a playground for ideological disputes or to try to inject. So I think it's just, let's get parents involved," DeSantis concluded.
On the other hand, the Biden administration joined other Democrats in publicly opposed to the bill opposition and slamming DeSantis for backing the legislation on Tuesday.
"Just imagine what it would feel like to be a kid watching the leaders in your state bully you through legislation that tries to erase your existence," the White House said. "These types of attacks are the root cause of the mental health crisis that too many LGBTQI+ children face."
"The President wants LGBTQI+ young people who may be feeling scared or alone to know that they are loved exactly for who they are, and that he won't stop fighting for the protections and safety they deserve," the Tuesday statement read.
Biden vowed to continue supporting the mental health of all students across the nation and to continue speaking out against anti-LGBTQ bills.
Update 02/08/2022 4:38 p.m.ET: DeSantis' office clarified his earlier remarks and provided updated comments about his position on the bills.