H.R. McMaster 'Isn't Going Anywhere' Despite Reports from Top Security Adviser: White House
White House Press Secretary Sarah Huckabee Sanders says President Donald Trump's National Security Adviser, H.R. McMaster "isn't going anywhere," despite reports that he will be joining a string of advisers leaving the administration.
Speaking to reporters, Sanders said Trump thinks McMaster is doing a "great job" and that the security adviser "isn't going anywhere."
"As the President said yesterday in the Oval Office to a number of people, he thinks [McMaster] is doing a great job and is glad he is here," Sanders said on Friday morning.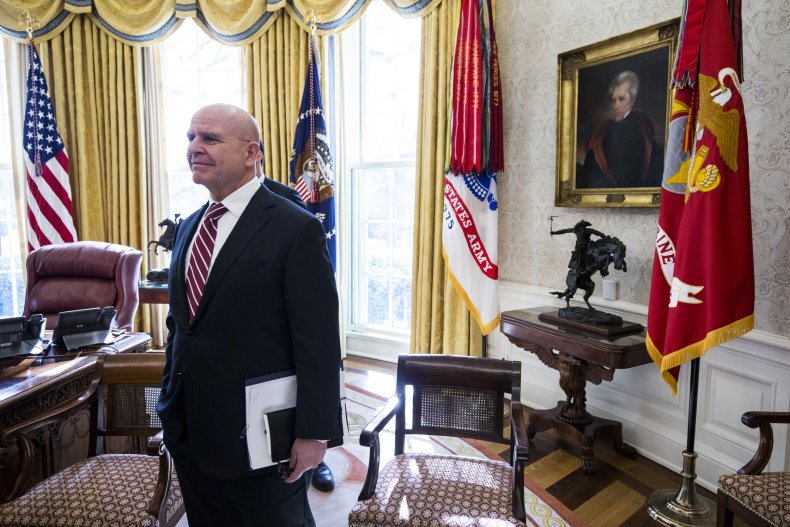 Reports said McMaster could depart from the White House by the end of the month, with mutliple sources telling CNN and Reuters that the advisor is expected to step down from his post in the near future.
Chief of Staff John Kelly was also rumored to be considering stepping down. Four senior administration officials told Reuters on the condition of anonymity that both Kelly and McMaster might resign at any time.
Both have reportedly worked with Secretary of Defense Jim Mattis on what has been dubbed the "axis of adults," a group tasked with brining order to Trump's often chaotic administration.
National Security Council spokesperson Michael Anton was quick to dismiss reports of McMaster's potential resignation on Thursday, telling pool reporters that Trump called reports "fake news."
Sanders also commented on former White House communications director Hope Hicks's resignation, saying she is leaving to "maybe take a little bit of a break and have some time for herself."
Hicks resigned from her role on Wednesday evening. The 29-year-old had been a close friend and former employee of Ivanka Trump, and been considered a close ally of the president before her resignation.
Hicks had said part of her role working for Trump involved occasionally telling white lies, in a comment made as she appeared before the House intelligence committee on Tuesday, The New York Times reported.
Despite making the acknowledgment, Hicks said she had not lied about matters in connection with the investigation into alleged Russian meddling in the 2016 presidential election.