White House Says Joe Manchin 'Reversed' His Position on Build Back Better
The White House said Sunday that Senator Joe Manchin's rejection of President Joe Biden's Build Back Better act is "at odds" with the Democratic lawmaker's discussions with Biden this week.
In a statement released Sunday afternoon, hours after Manchin stated on Fox News he can't vote for the broad social spending bill, White House Press Secretary Jen Psaki said that weeks ago, the senator had "committed to the President, at his home in Wilmington, to support the Build Back Better framework that the President then subsequently announced."
"Just as Senator Manchin reversed his position on Build Back Better this morning, we will continue to press him to see if he will reverse his position yet again, to honor his prior commitments and be true to his word," Psaki said Sunday.
On Fox News Sunday, Manchin said that he" cannot vote to continue with this piece of legislation. I just can't. I've tried everything humanly possible. I can't get there." He noted that inflation, the Omicron variant and national debt were among his concerns.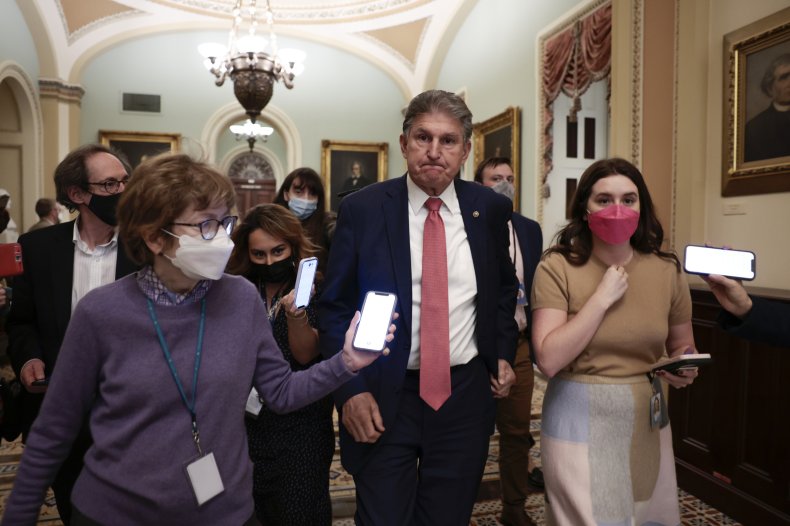 "Where I'm at right now, the inflation I was concerned about—it's not transitory. It's real. It's harming every West Virginian," he said.
Manchin's support for the legislation had been key because because Democrats maintain an extremely thin majority in the Senate. The Democrats only hold 50 out of 100 seats, with Vice President Kamala Harris casting a tie-breaking vote, meaning they can't afford to lose any votes if they wants to advance the legislation.
Psaki criticized Manchin's reasons for rejecting the legislation, noting a statement he released Sunday outlining his opposition.
In the statement, Manchin blasted the cost of the legislation.
"The non-partisan Congressional Budget Office determined the cost is upwards of $4.5 trillion which is more than double what the bill's ardent supporters have claimed. They continue to camouflage the real cost of the intent behind this bill," he said.
He also raised concerns about the bill's efforts to address climate change, stating that "the bill will also risk the reliability of our electric grid and increase our dependence on foreign supply chains."
"The energy transition my colleagues seek is already well underway in the United States of America," Manchin added.
In response, Psaki said the senator's "statement about the climate provisions in Build Back Better are wrong."
"Build Back Better will produce a job-creating clean energy future for this country—including West Virginia," she added.
She also stated that the "the plan is fully paid for" and "the most fiscally responsible major bill that Congress has considered in years," reducing the deficit in the long term.
She added that the Congressional Budget Office Manchin cites "analyzed an unfunded extension of Build Back Better."
"That's not what the President has proposed, not the bill the Senate would vote on, and not what the President would support. Senator Manchin knows that," Psaki added.
And responding to Manchin's worries over the bill's impact on inflation, Psaki contended the legislation will lower costs for families, including child care and prescription drug expenses.
"If someone is concerned about the impact that higher prices are having on families, this bill gives them a break," she said.
Newsweek reached out to Manchin's office for comment, but did not immediately receive a response on Sunday afternoon.
This story has been updated.