White House Says Parents of Migrant Kids 'Declined to Accept Their Kids Back' After Report Saying Lawyers Can't Find Parents
The parents of the hundreds of migrant children who have still not been reunited with their families did not want their children back, according to a White House spokesman, who said the Trump administration had tried.
Under President Donald Trump's highly controversial "zero tolerance" policy at the Mexican border, thousands of undocumented immigrant children were taken away from their parents or guardians. According to a court filing from the American Civil Liberties Union (ACLU) on Tuesday, the parents of 545 migrant children have still not been tracked down. But the White House said Wednesday that it had tried and that the parents did not want the children back.
"Many of them have declined to accept their children back.... It's not for lack of effort on the administration's part," White House spokesman Brian Morgenstern said, according to NBC News.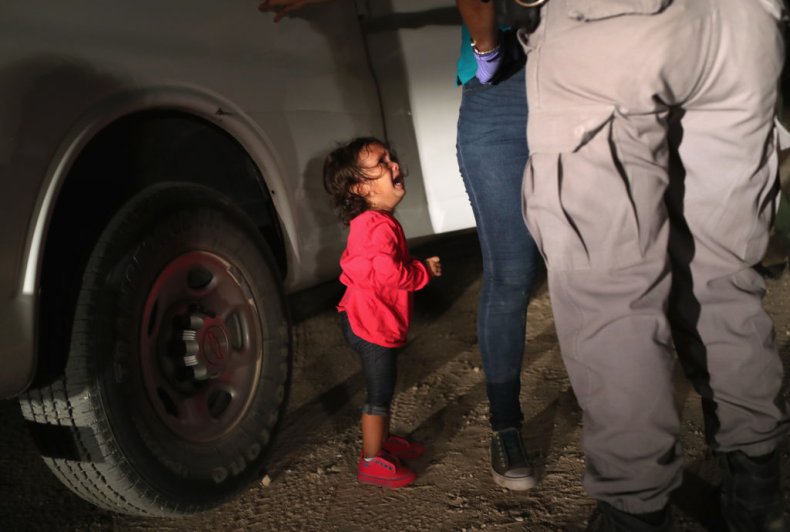 Lee Gelernt, deputy director of the ACLU Immigrants' Rights Project, described the situation as "horrific" in comments to NPR.
"Some of these children were just babies when they were separated. Some of these children may now have been separated for more than half their lives. Almost their whole life, they have not been with their parents," he said.
Ali Noorani, president and CEO of the National Immigration Forum, described the situation as "America's anguish, and our shame," in comments emailed to Newsweek.
"In a nation where family unity is a fundamental value, the administration separated families intentionally, with no way of tracking or reuniting them," Noorani said. "This is negligence layered on cruelty."
Progressive Democratic lawmakers, who have repeatedly condemned the Trump administration's treatment of immigrants at the border and in detention centers, did not mince words in their criticism.
"This is child abuse of staggering proportions," Representative Ilhan Omar of Minnesota tweeted when the news broke on Tuesday.
"We created whole generation of children who will remember that we caged them like animals, ripped them away from their parents & pumped them with drugs to make them stop crying. No amount of apologies will make this better," Representative Rashida Tlaib of Michigan wrote in a Twitter post, calling for the abolition of the U.S. Immigration and Customs Enforcement.
In 2017, the Trump administration began separating undocumented migrant children from their parents at the border. Then, in May 2018, the Justice Department announced that it had implemented the zero tolerance policy in an effort to further deter undocumented immigration. A little over a month later, U.S. District Judge Dana Sabraw issued a preliminary injunction ordering the Trump administration to reunite the migrant children with their families. But now, more than two years later, hundreds have yet to be returned to their parents.
"This administration ripped babies from their mother's arms, and then it seems those parents were in many cases deported without their children and have not been found. It's an outrage, a moral failing, and a stain on our national character," Democratic presidential nominee Joe Biden said in a statement emailed to Newsweek on Wednesday.