White House Says Russian Invasion 'Remains Imminent' After Ukraine Leaders Urge Calm
The White House said Tuesday it stands by the U.S. assessment that a Russian invasion of Ukraine is imminent.
Press secretary Jen Psaki was asked to respond to Ukrainian officials telling residents that an attack is not imminent and that there is no reason for people to panic.
"Well, no one can get into the mind of President [Vladimir] Putin or Russian leadership," Psaki said. "We all know that is the case. What we have seen is a range of preparations, including 100,000 troops at the border, bellicose rhetoric and actions, as we've talked about in here, including false flag operations to try to spread misinformation throughout the region and even the world, setting up the predicate for an invasion."
Psaki said that the preferred path forward is diplomacy but that officials have "certainly seen aggressive actions and preparations increasing at the border."
The Biden administration has urged U.S. citizens to leave Ukraine now as tensions escalate between the Eastern European country and Russia. Russia has amassed an estimated 100,000 troops along its border with Ukraine in recent months, prompting concerns about an attack.
The U.S. Embassy in Kyiv has already ordered diplomats' family members to leave the country, a move Ukrainian officials criticized as premature.
Ukraine Defense Minister Oleksii Reznikov said that "as of today there are no grounds to believe" that Russia is planning to invade imminently, the Associated Press reported.
"Don't worry, sleep well," Reznikov said. "No need to have your bags packed."
President Volodymyr Zelenskyy told the nation on Monday that the situation was "under control," according to the AP.
Psaki told reporters on Tuesday, "When we said it was imminent, it remains imminent. But again, we can't make a prediction of what decision President Putin will make. We're still engaged in diplomatic discussions and negotiations."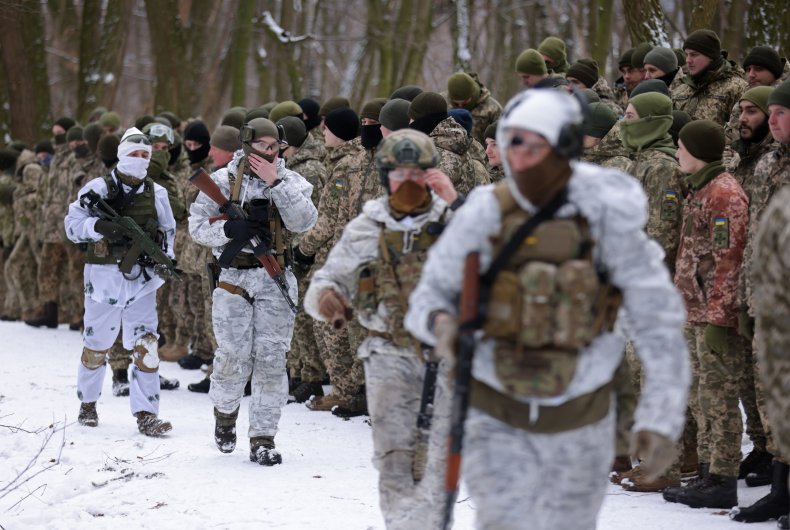 On Monday, Biden discussed the situation in Ukraine with European allies in an 80-minute call. The president said there was "total unanimity" among the leaders as to what their approach will be.
Pentagon spokesman John Kirby said Monday that the military is readying 8,500 troops for possible deployment to Eastern Europe. Most of the service members are being placed under high alert to bolster NATO's Response Force if an invasion takes place, officials said.
A White House readout of the call between Biden and European allies said the leaders discussed "preparations to impose massive consequences and severe economic costs on Russia for such actions as well as to reinforce security on NATO's eastern flank."
Update 01/25/22, 2 p.m. ET: This story was updated with more information and background.