White House Says Trump and Pence Not Briefed on Bounties on U.S. Troops
A day after a New York Times report alleging that President Donald Trump and Vice President Mike Pence had been briefed on intelligence that Afghan militants were offered a bounty for killing U.S. and U.K. troops, the White House denied that Trump and Pence had been told.
The New York Times published a story Friday evening reporting that Russian intelligence operatives offered bounties to militants in Afghanistan for killing coalition forces in the country. The bounties were offered during peace talks to end America's longest-running war, according to the report.
The report says that Trump had been briefed and the National Security Council discussed the intelligence in late March. Options including escalating sanctions against Russia were discussed, but the White House had not yet authorized any actions, according to the report. The Times based its story on statements from unnamed officials who had been briefed on the issue.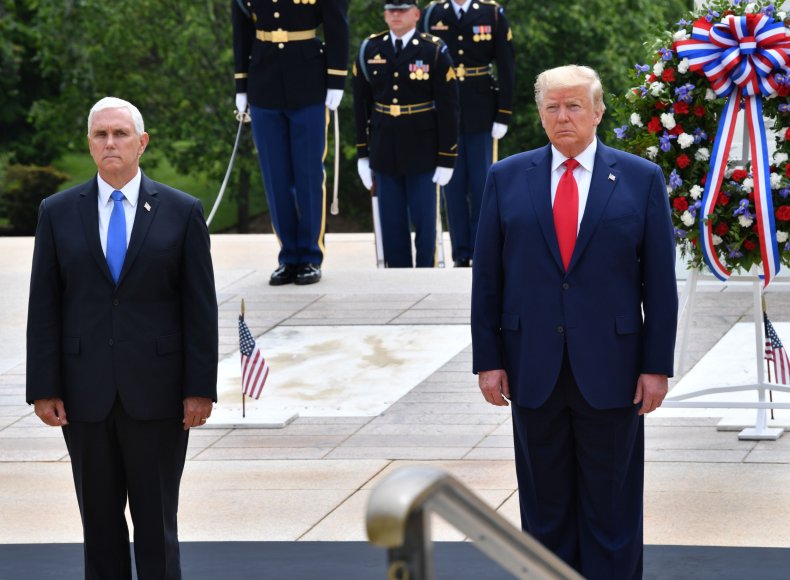 Saturday afternoon, White House Press Secretary Kayleigh McEnany released a statement that, despite the New York Times report that Trump and Pence had been briefed, they were not told about the intelligence. McEnany did not comment on whether the intelligence itself was valid.
"The United States receives thousands of intelligence reports a day and they are subject to strict scrutiny. While the White House does not routinely comment on alleged intelligence or internal deliberations, the CIA Director, National Security Advisor, and the Chief of Staff can all confirm that neither the President nor the Vice President were briefed on the alleged Russian bounty intelligence," McEnany said.
"This does not speak to the merit of the alleged intelligence but to the inaccuracy of the New York Times story erroneously suggesting that President Trump was briefed on this matter," she added.
Newsweek reached out to the Pentagon, who declined to comment.
After the Times report was published, the White House faced criticism for not acting on the information. Democratic presidential candidate, former Vice President Joe Biden, speaking at a virtual town hall on Saturday, had harsh words for Trump based on the initial report that the White House had been briefed.
"His entire presidency has been a gift to Putin, but this is beyond the pale," Biden said. "It's betrayal of the most sacred duty we bear as a nation to protect and equip our troops when we send them into harm's way. It's a betrayal of every single American family with a loved one serving in Afghanistan or anywhere overseas."
Sen. Lindsey Graham (R-S.C.) tweeted Saturday that "Congress get to the bottom" of the reports.
"I expect the Trump Administration to take such allegations seriously and inform Congress immediately as to the reliability of these news reports," he added.