White House Says Trump's 1/6 Comments Are Reminder of 'How Unfit He is For Office'
The Biden administration is hitting Donald Trump over his recent remarks about the January 6 Capitol riot and efforts to overturn his 2020 election loss.
White House press secretary Jen Psaki said Monday that Trump's comments show how "unfit" he is to hold an elected position.
"In his remarks this weekend, he defended the actions of his supporters who stormed the Capitol and brutally attacked the law enforcement officers protecting it. I think it's important to shout that out and call that out," she told reporters.
"He even attacked his own vice president for not, in his words, having overturned the election," Psaki continued. "It's just a reminder of how unfit he is for office and it's telling that even some of his closest allies have rejected those remarks as inappropriate in the days since."
Trump said at a rally on Saturday that, if he were to run for president again in 2024 and win, he would consider pardons for those charged with criminal offenses in connection to the January 6 riot at the U.S. Capitol last year. "If it requires pardons, then we will give them pardons," he said.
More than 700 people have been arrested due to their alleged participation that day. At least 165 individuals have pleaded guilty. Trump told the crowd assembled in Conroe, Texas "they are being treated so unfairly."
Then on Sunday, the former president lashed out at the bipartisan effort to reform the Electoral Count Act. Changes being considered to the 1887 law include raising the threshold for objections to a state's presidential election results and either removing the vice president as the presiding officer or clarifying their role in the process.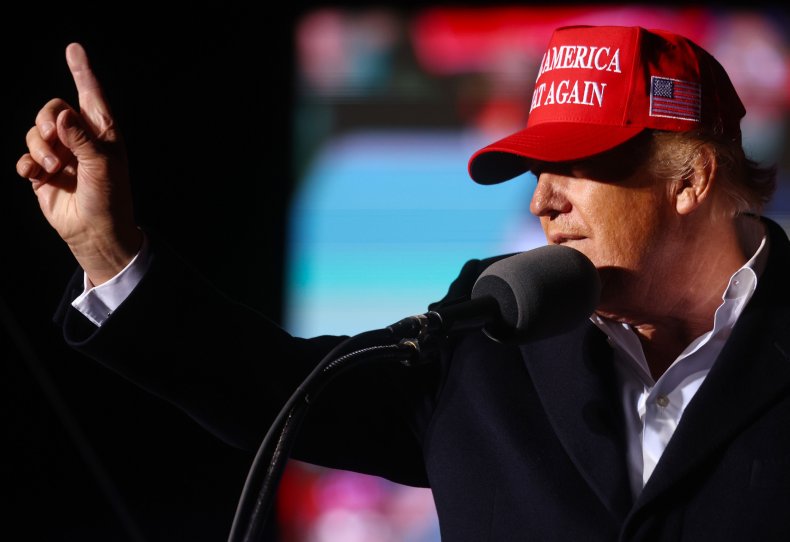 "If the Vice President (Mike Pence) had 'absolutely no right' to change the Presidential Election results in the Senate, despite fraud and many other irregularities, how come the Democrats and RINO Republicans, like Wacky Susan Collins, are desperately trying to pass legislation that will not allow the Vice President to change the results of the election?" Trump said in a statement.
Trump also falsely claimed that Pence had the right to change the outcome of the 2020 presidential race.
"Unfortunately, he didn't exercise that power, he could have overturned the Election!" he added.
Trump's pressure on Pence to overturn the results and the events of January 6 appear to have caused a rift between the two men, as Pence recently told Fox News that they haven't spoken in months.
Trump's statement Sunday sparked criticism from Democrats and Republicans. Congressman Adam Kinzinger, one of two GOP members of the House committee investigating the attack on the Capitol, called it "massively un-American."
Newsweek contacted Trump's Save America PAC for a response to the White House's comments but didn't receive a response before publication.