Video: White House Sinkhole 'One of Melania's Escape Tunnels,' Says Jimmy Kimmel
As was probably to be expected, a sinkhole found on the White House lawn has produced an abundance of tweets, memes and plain old jokes. Even Jimmy Kimmel couldn't resist a pop.
"A sinkhole has opened up on the White House lawn, which is very interesting and weird because exactly one year ago today a sinkhole opened at Mar-a-Lago and now there's one outside the White House," Kimmel said during Tuesday night's Jimmy Kimmel Live!.
"I'm starting to think maybe God's aim is slightly off."
Related: A massive sinkhole swallowed cars in Rome
After getting a closer look of the cordoned off hole in the grass, Kimmel quipped "are we sure this is a sinkhole and not one of Melania's escape tunnels?" adding "she did ask for a headlamp for Mother's Day."
Melania tangentially came up later in Kimmel's monologue again, through President Donald Trump's accidental tweeting.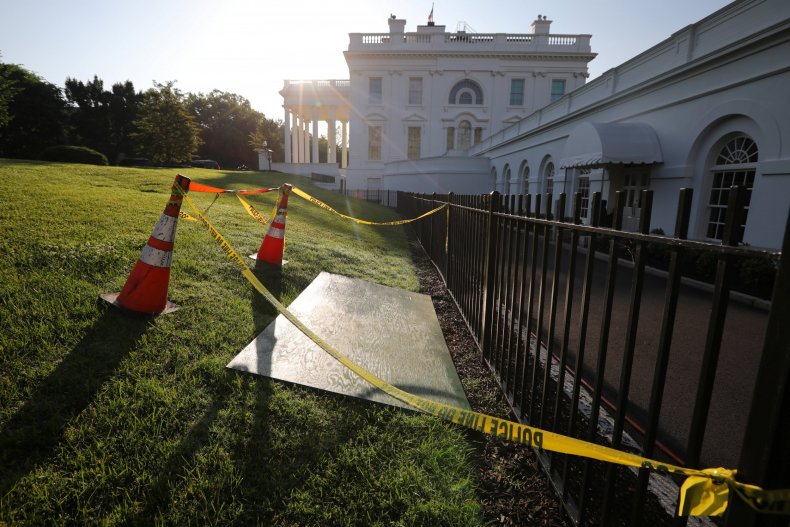 "You how Trump frequently makes mistakes in his tweets, like over the weekend he wrote Melanie instead of Melania… turns out the president has staffers who help him compose those tweets, and according to the Boston Globe those staffers add grammatical errors to make it seem more authentically Donald Trump," Kimmel said.
"They do this because they believe tweets with errors in them make the president more relatable—and they do," Kimmel added, "to idiots."