White House Snaps Back at Jim Jordan's First Round of Subpoenas
House Judiciary Committee Chairman Jim Jordan issued a wave of subpoenas on Friday attacking federal law enforcement's strategy in handling threats at school board meetings.
The subpoenas—which are directed at Attorney General Merrick Garland, FBI Director Christopher Wray and Education Secretary Miguel Cardona—mark the first from House GOP Judiciary members who have long-promised to investigate the alleged "weaponization" of the federal government under the administration of President Joe Biden.
Friday's allegations from Jordan are aimed at a memo from Garland issued in October 2021, which directed the FBI to partner with local law enforcement in identifying potential threats to local school board meetings.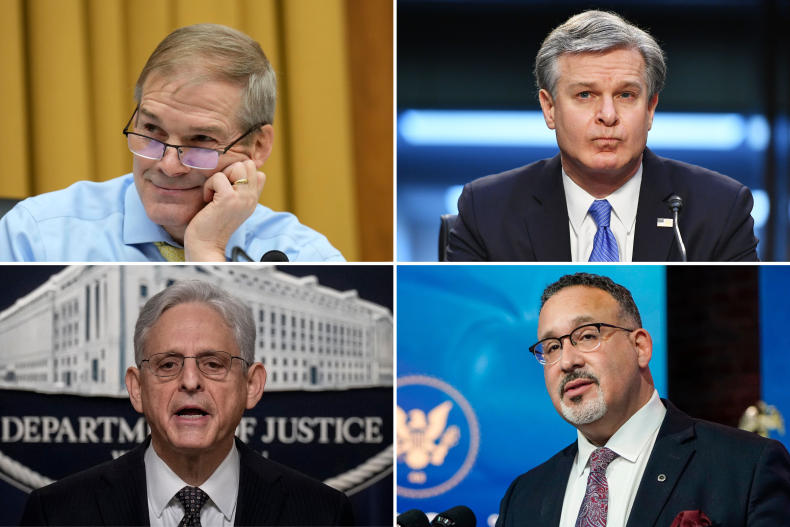 According to a press release from the Judiciary Committee, several whistleblowers disclosed shortly after Garland's memo that "the FBI's Counterterrorism and Criminal Divisions created a specific threat tag for school board-related threats and even opened investigations into parents simply for speaking out on behalf of their children."
The White House later responded to the pile of subpoenas, saying that Jordan was "rushing to fire off subpoenas only two days after the Judiciary Committee organized."
"These subpoenas make crystal clear that extreme House Republicans have no interest in working together with the Biden Administration on behalf of the American people—and every interest in staging political stunts," read the statement from spokesperson for Congressional Oversight Ian Sams, which was posted to Twitter by Spectrum News correspondent Taylor Popielarz.
According to the Judiciary Committee's release, the Biden officials have until March 1 to turn over the requested documents. The committee also noted that since Garland's memo was published in October 2021, House Judiciary Republicans have sent over 100 letters to the Biden administration "requesting answers about how the Administration used federal counterterrorism resources against American parents."
The Judiciary panel also sent several letters on January 17 requesting that federal departments, such as Cardona's, voluntarily provide outstanding documents that had not been released in previous requests.
Garland's directive in 2021 was released after school board meetings across the country were filled with heated exchanges between parents and administration about topics like COVID-19 regulations and critical race theory (CRT).
The National School Boards Association (NSBA) also asked the Biden administration in September 2021 to help stop the uptick of threats school board members were receiving, comparing them to a form of domestic terrorism.
On Friday, an FBI spokesperson responded to Jordan's subpoenas in a statement obtained by CNN, saying that the bureau "has never been in the business of investigating speech or policing speech at school board meetings or anywhere else, and we never will be."
Newsweek has reached out to the House Judiciary Committee for comment.