Trump's Words on Rob Porter Domestic Violence Allegations Show He Favors Men Over Their Accusers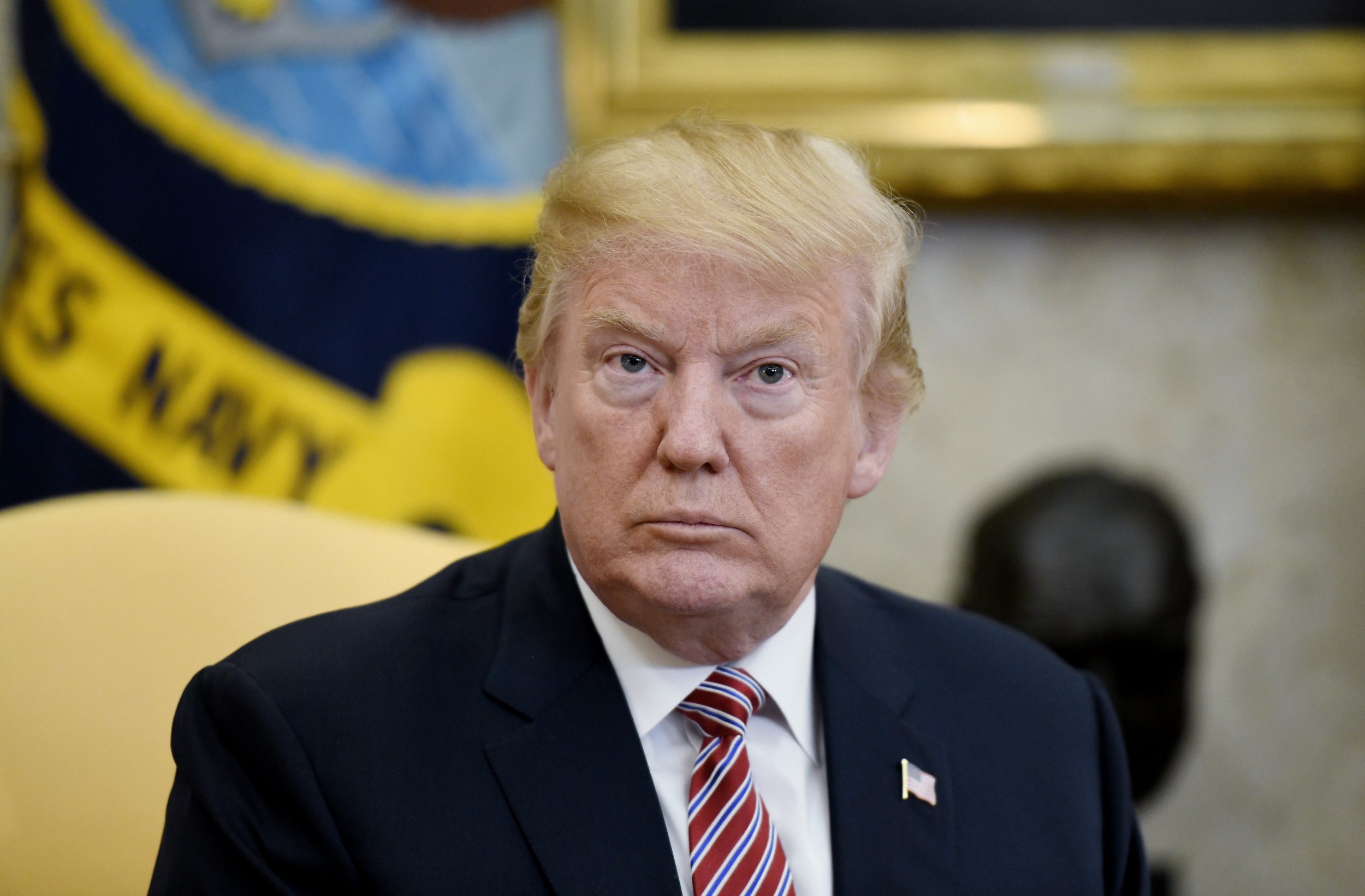 The White House domestic violence scandal enters Week 2 for a simple reason: President Donald Trump has not offered a clear statement against spousal abuse—an omission that leaves only the president's staff confused on the issue.
Everyone else knows where this president stands. He's made it so abundantly clear.
Over the weekend, Trump reportedly said in private that he is "fucking pissed" about the domestic violence allegations against staffer Rob Porter, especially after first daughter Ivanka Trump apparently hand-delivered a photograph of Porter's first ex-wife with a black eye. But it's obvious what the president's actual position is; in public, Trump praised Porter to the press and turned to Twitter to vehemently defend the ex-staffer to his 48 million followers.
"Peoples (sic) lives are being shattered and destroyed by a mere allegation," Trump wrote on Saturday. "Some are true and some are false. Some are old and some are new. There is no recovery for someone falsely accused—life and career are gone. Is there no such thing any longer as Due Process?"
This from a man who has been accused 19 times of sexual abuse or harassment. He calls such allegations "fake news"—which also happens to be the White House's official position on the matter.
In December, Trump defended Senate hopeful Roy Moore, who had been accused of having inappropriate sexual relationships with teenagers when he was an adult. "Well he denies it," Trump said at the time. "He says it didn't happen. And you have to listen to him also." He said the same thing in defending Porter publicly: "He says he's innocent and I think you have to remember that," the president said on Friday.
Trump's disbelief in women accusers shows through in the policies of his administration. Before Trump even took office, his team drew up a budget plan that proposed eliminating the Department of Justice's violence against women grant programs, which allocates funds to organizations dealing with sexual assault and domestic abuse. Now in office, Trump has rolled back Obama-era birth control mandates and protections for women in the workplace and appointed a secretary of education who has made it harder for campus rape victims to get justice and held listening sessions with the families of men who believed they'd been wrongfully accused of sexual assault.
Senator Kirsten Gillibrand (D-N.Y.), who has called for Trump to resign over the allegations against him, drew a straight line between the president's on-record statements about Porter and many of these policies. Trump's supposed misgivings behind closed doors mean little to her in the face of such overwhelming evidence.
"This is an important time to talk about this White House and whether they value women," she tweeted on Friday. "Because, consistently, their actions tell us they don't."
Instead, the administration shapes a culture where women must fight for agency over their bodies and continue to fear someone might violate them, be it a stranger, a friend, a husband or a man who may one day go onto become the president of the United States. In Trump's world—which we live in—women are expendable, while the men who harm them are the ones whose lives may be irreparably "shattered."
The president is brazen enough to put forth this vision amid the #MeToo movement, which has women feeling more certain that if they come forward with allegations of abuse, they will be believed. It's even begun to seem possible that alleged sexual harassers and assaulters, as a group, might face the consequences of their actions. But Trump hardly blinks in the face of such a powerful movement because he has no reason to believe it will ever hold him accountable to his own behavior. He is probably right.
Trump's White House aides may leak a message that POTUS is outraged over Porter's alleged abuse, but publicly Trump doesn't seem to blame Porter at all. In fact, he reportedly blamed Porter's apparent girlfriend, White House communications director Hope Hicks for initially defending the aide—another telling sign that the president would rather direct his anger toward women than alleged perpetrators of abuse.
Besides, Trump has long held that Twitter is the place where he's most honest and candid, and that he prefers dispatching tweets over going through reporters, who he thinks distort his meaning.
If Trump uses his 280 characters to defend an alleged abuser, who's to think he doesn't mean it?