Financial Disclosure Forms of White House Staffers Show the Swamp Is Far From Drained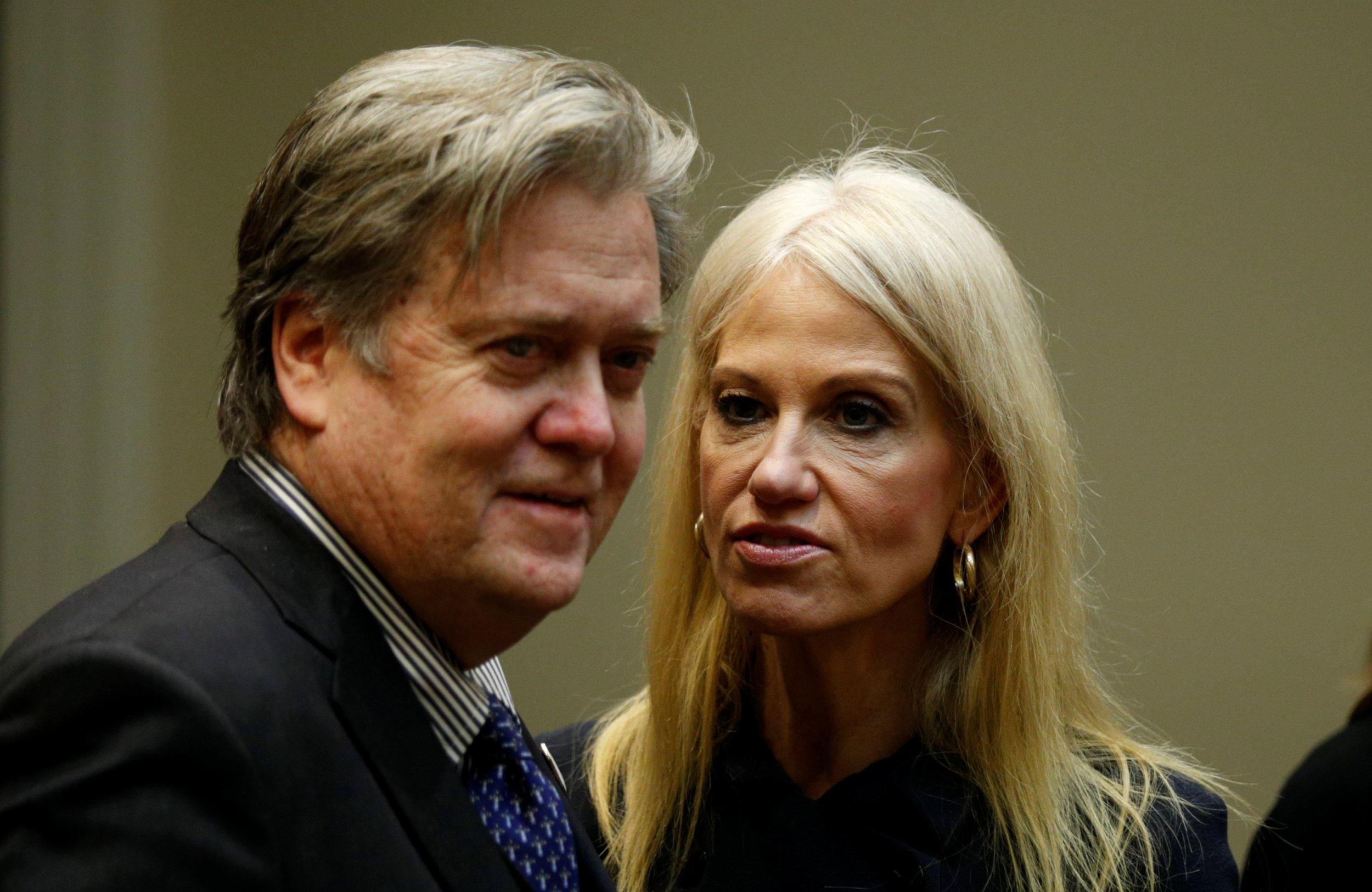 For all Donald Trump's talk about draining the swamp, his cabinet and closest advisers remain bogged down in their own complex finances.
On Sunday, The New York Times, ProPublica and the AP, published the financial disclosure forms of various White House staffers—including some of the administration's biggest players: chief strategist Steve Bannon, chief of staff Reince Preibus and senior adviser Jared Kushner.
In total, about 180 White House employees have released their financial disclosure forms, which reveal what they were worth when Trump took office. (Ethics' laws require staffers to do this, with senior officials having 30 days to file the necessary information.) As well as being the richest administration in modern history— Bloomberg calculated Trump's senior aides and cabinet as having a net worth of $12 billion—several of Trump's wealthiest staff made significant amounts of money working for various conservative groups.
Read more: Trump promised to "drain the swamp" of special interests. It's actually growing—fast
One family's influence is particularly clear. The Mercers, who have invested heavily in data mining company Cambridge Analytica, media organization Breitbart News, super PAC Keep the Promise and conservative group the Citizens United Foundation, have helped line the pockets of several White House staffers.
To Bannon, the former executive chair of Breitbart News, Cambridge Analytica paid $125,333 in consulting fees for 2016 and part of 2017. Bannon also made $100,000 in director fees from Citizens United Production.
Kellyanne Conway, counselor to the president, received compensation in excess of $5,000 in a year for the last two calendar years from Cambridge Analytica, Citizens United, Citizens United Political Victory Fund and Keep the Promise. Donald F. McGahn, counsel to the president, reported receiving compensation in excess of $5,000 in a year for the last two calendar years from the Citizens United Foundation. There is no upper limit listed for these payments, meaning that Conway and McGahn may have made significantly more than $5,000.
The Mercers are not the only family Trump staffers have profited from. Groups affiliated to the billionaire Koch brothers, such as the conservative super PAC Freedom Partners, also appear in the disclosure forms. (Ann Donaldson, special counsel to the president, received compensation in excess of $5,000 for the last two calendar years from the organization).
Taken as a whole, the documents reveal the extent to which private political work has benefitted team Trump. As The New York Times reports, staffers have received income from various Republican campaigns; conservative media organizations such as Breitbart and Fox News and right-of-center conservative groups.
Read more: White House wealth—team Trump's financial disclosures
It is a sign, the newspaper adds, of the influence of the 2010 Supreme Court ruling, often referred to as Citizens United, that allowed corporations and unions to spend unlimited sums on supporting political candidates.
This led to the rise of super PACs, which accept donations from the very wealthy and spend them on advertising or other political tools to get their preferred candidate into office. The Center for Responsive Politics, a research group based in Washington, D.C., found that 2,389 super PACs raised $1.79 billion in 2016— a sizeable jump from 2012, when 1,310 super PACs raised $828 million.
The ruling may be responsible for Conway's form, which showed she made more than $800,000 last year from her organization The Polling Company/Woman Trend, which she valued as between $1 million and $5 million. Conway's form listed 75 sources of income.
Similarly, Donaldson received compensation in excess of $5,000 for legal services for the last two calendar years from an array of political groups, among them America Rising, Americans for Economic Freedom, Freedomworks For America and Romney for President.
As news organizations continue to publish the disclosures, federal ethics officials are advising White House staffers on how to avoid financial conflicts of interest. The Office of Government Ethics has said that 25 percent of Trump employees have "extremely complex" finances, indicative of extreme wealth, Reutersreports.
People like Bannon, Conway and Donaldson will have stopped their external advisory work once they joined the White House. But critics worry that while outside payments may have stopped, outside influence could still continue.