White House Stands Behind Masking in Schools as States Pull Back Mandates
White House press secretary Jen Psaki told reporters Monday that universal masking in schools "still remains our recommendation" even as some states lift requirements.
"Our advice to every school district is to abide by public health guidelines," Psaki said. "It continues to be at this point that the [Centers for Disease Control and Prevention] is advising that masks can delay and reduce transmission.... It's always been up to local school districts to determine how they implement."
The administration's recommendation comes as some Democrat-led states begin to pull back their mask mandates—a shift in their response to the coronavirus pandemic as the Omicron variant wave appears to be subsiding and cases are declining across the country, particularly in regions like the Northeast.
New Jersey Governor Phil Murphy announced Monday that the statewide mandate requiring face coverings in schools will be lifted on March 7. "Balancing public health with getting back to some semblance of normalcy is not easy," the governor wrote on Twitter. "But we can responsibly take this step due to declining COVID numbers and growth in vaccinations."
In Delaware, Governor John Carney said the mask mandates for public and private K-12 schools will end on March 31. Last month, Pennsylvania's Tom Wolf handed over the reins on mask requirements to local school officials.
But the Centers for Disease Control and Prevention is still advising that all students ages 2 and older, staff, teachers and visitors wear masks indoors regardless of vaccination status. The agency also recommends that schools distance students at least 3 feet apart and give screening tests to prevent transmission.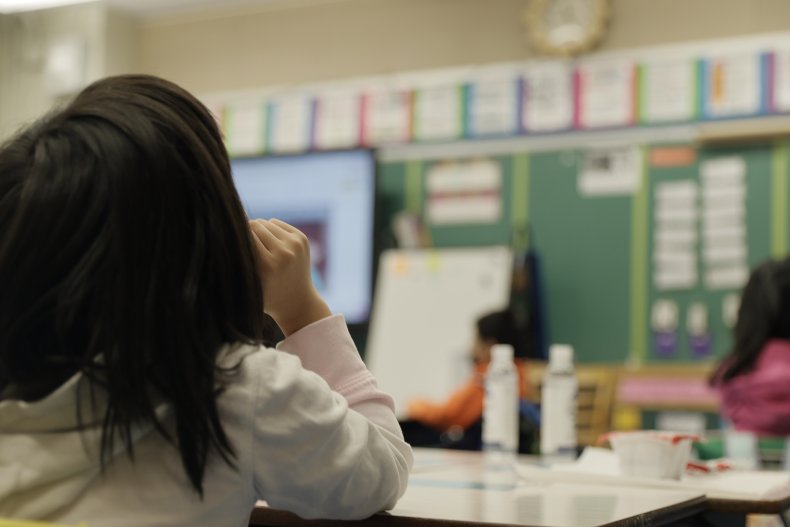 Face coverings in schools have been a source of contentious debate among Republicans and Democrats throughout the pandemic. Some GOP-led states, including Florida, have blocked universal mandates for masks in schools.
Over the weekend, Georgia gubernatorial candidate Stacey Abrams was widely criticized after a photo circulated online of her maskless in a school, surrounded by young children wearing face coverings.
A Monmouth University poll released last month found that 70 percent of U.S. adults think it's time we accept that the coronavirus is here to stay and "we just need to get on with our lives." The survey also showed that support for mask requirements and social distancing guidelines had decreased since the fall.
Psaki said Monday that the administration understands the public's pandemic fatigue but that it will continue to abide by the advice of its public health experts.
"But our responsibility as the federal government is to rely on the data and the science that is being analyzed by our public health experts, and we'll continue to rely on that for what recommendations we're making," she said.
Newsweek reached out to Murphy and Carey for comment on the White House's remarks but didn't receive a response before publication.