White House: Texas, Florida Fighting Vaccine Mandates Because of 'Politics' Not Health
The White House is hitting out at Republican leaders who are opposing vaccine mandates.
Press secretary Jen Psaki said Tuesday the fights by Texas Governor Greg Abbott and Florida Governor Ron DeSantis against such requirements "​​fit a familiar pattern" of putting politics before health.
"I think it's pretty clear when you make a choice that's against all public health information and data out there, that it's not based on what is in the interest of the people you are governing," Psaki said. "It's perhaps in the interest of your own politics."
Psaki highlighted that over 700,000 Americans have died from COVID-19 since the pandemic began, including more than 56,000 in Florida and over 68,000 in Texas.
"Every leader should be focused on supporting efforts to save lives and the pandemic," she said. Psaki also said Abbott and DeSantis's decisions put them "out of step" with many business leaders in their states.
Abbott issued an executive order Monday barring virtually any COVID-19 vaccine mandate in the state, including private employers.
The governor's press secretary, Renae Eze, told Newsweek the administration "has left Texans in the impossible position of having to choose between providing for their families or being fired for not getting the COVID vaccine because of their religious belief, medical condition or personal conscience."
Eze continued, "And they have left employers with the unfair choice of either violating federal regulations or losing their valued employees. The governor's executive order will help protect Texans from having to make that choice."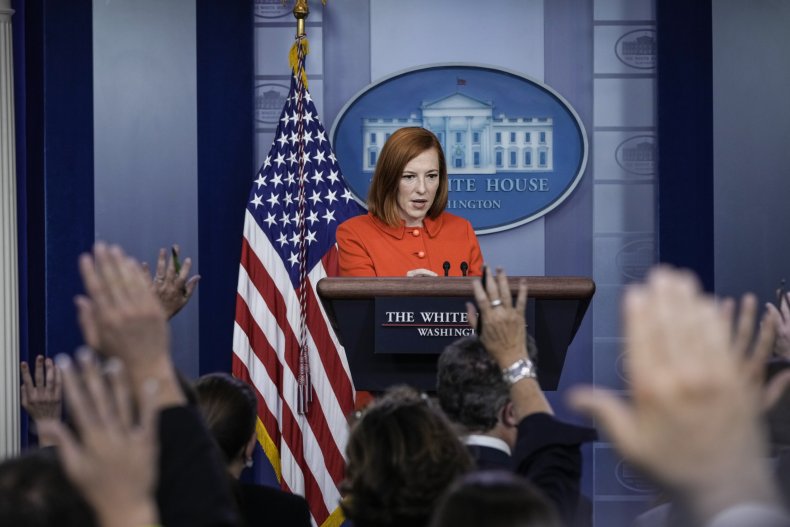 The order states that no entity in the Lone Star State can compel someone to receive the vaccine if they object for any reason of personal conscience, based on a religious belief, or for medical reasons, including prior recovery from the virus.
DeSantis is making good on his threat to fine local Florida governments that require employees to be vaccinated. On Tuesday morning, it was reported that the governor's administration is asking one county to pay $3.57 million because it imposed vaccine requirements despite the state's ban on so-called vaccine passports.
"It is unacceptable that Leon County violated Florida law, infringed on current and former employees' medical privacy, and fired loyal public servants because of their personal health decisions," DeSantis said in a statement Tuesday. "We will continue fighting for Floridians' rights and the Florida Department of Health will continue to enforce the law."
President Joe Biden said last month that he plans to direct all private companies with more than 100 workers require employees to be vaccinated or conduct weekly tests for the coronavirus.
Biden has also required all federal workers and contractors to get vaccinated. Airlines such as American Airlines and Southwest Airlines, both headquartered in Texas, have said they will comply with the president's order.
Christine Pushaw, a spokesperson for DeSantis, said that the governor will "oppose any attempt by the federal government to force Americans to submit to medical procedures against their will."
"It's appalling that this is even up for debate," Pushaw told Newsweek.
Asked Tuesday if the administration will take legal action against Texas, Psaki said that federal law "overrides" state policies
"​​Bottom line is we're going to continue to implement the law, which the president of the United States has the ability, the authority—the legal authority—to do," the press secretary said.
Update (10/13/2021, 9:20 a.m. ET): This story has been updated with a comment from Governor Abbott's office.