White House Trade Adviser Says It's 'Critical' for Americans Not to Use Apps Made in China
The Trump administration's plans for targeting apps made in China go beyond TikTok and WeChat, White House trade adviser Peter Navarro said on Monday.
Navarro appeared on Fox Business's Mornings With Maria to discuss the expected sale of TikTok by Chinese technology company ByteDance and the concerns that he said administration officials have about other apps made in China.
"It's critical that this country not use apps that are made in China or that can take our data and go to servers in China, because that data will be used to surveil, monitor and track you. It will be used to steal your passwords, it will be used in some cases to try to blackmail or extort you," Navarro said.
"That's really the policy position underlying why we have gone after TikTok and WeChat—and there will be others," Navarro added. China "is basically going out around the world trying to acquire technology and influence," a strategy that Navarro said President Donald Trump "is not going to put up with."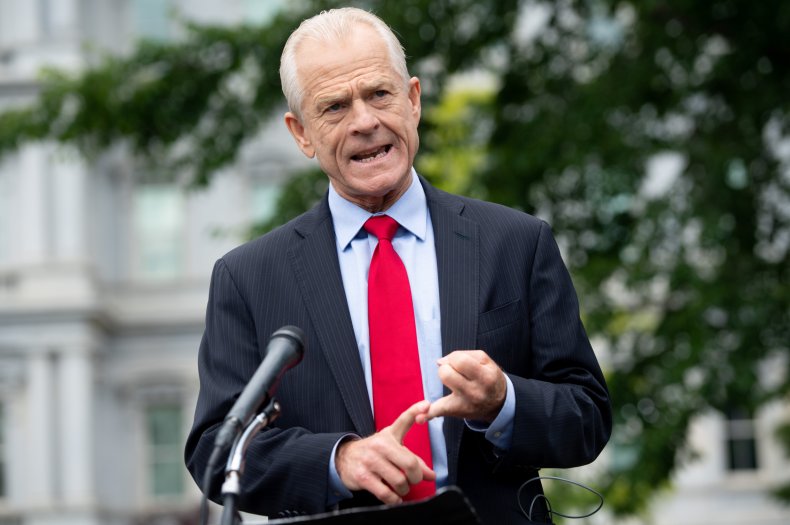 Trump signed executive orders on August 6 banning TikTok and WeChat from continuing to operate in the U.S. within 45 days as long as operations continue under ByteDance and Tencent, the Chinese technology company that developed WeChat. In his executive order announcing the TikTok ban, Trump said the widespread use of TikTok in the U.S. and around the world has allowed China to collect personal data from its millions of users, which he said poses a national security risk to the U.S.
"This data collection threatens to allow the Chinese Communist Party access to Americans' personal and proprietary information—potentially allowing China to track the locations of Federal employees and contractors, build dossiers of personal information for blackmail, and conduct corporate espionage," the executive order said.
The order targeting WeChat said the app posed the same risks by "automatically" collecting "vast swaths of information from its users."
Navarro mentioned Huawei, another Chinese technology company that the U.S. has repeatedly identified as a national security threat, as an example in explaining why the administration wants to move quickly to identify other risky apps.
"You're only one software update away with a Huawei phone from having your complete information taken away from you. You're going to have similar problems with these mobile apps," Navarro said. "If they're benign today, that doesn't mean they're benign tomorrow."
Navarro did not specify which other apps the White House has identified thus far as posing a threat to American users. Newsweek reached out to the White House for comment but did not receive a response in time for publication.
Navarro said he isn't personally involved in any discussions about the potential purchase of TikTok by an American company—Microsoft and Walmart are two of the companies reportedly in talks to buy the app from ByteDance. But he said it's important that the company that does purchase the app ensures user protections in the U.S.
"What you want to make sure is that we are able to create a great firewall, ironically, between us and China, with respect to any data transfer," he said.