White House Trots Out Top Officials to Control Damage From Biden's Ukraine Gaffe
As blowback continues to come from President Joe Biden's gaffe regarding a "minor incursion" from Russia into Ukraine, top White House officials have scrambled to reiterate what Biden meant.
A number of senior administration members, such as chief of staff Ron Klain and press secretary Jen Psaki, were doing damage control Thursday to ensure that Biden's comments were clarified.
The head-scratching remarks came during the president's address on Wednesday to mark one year since taking office. During the speech, Biden stated that "it's one thing if [the invasion is] a minor incursion," which was interpreted by some as an insinuation that Russia might not be dealt with as harshly.
During an interview Thursday night on NBC Nightly News With Lester Holt, Klain spoke with the evening news host regarding the point that the president was trying to get across.
"I think it's fair to say the White House has pretty aggressively walked back or clarified, whatever you want to call it, the president's comments about Ukraine and Russia and whether the president was signaling that a minor incursion might be viewed through a different lens," Holt began. "Whether the president meant to say that at the time, or maybe he was being inarticulate, can you afford any gaffes given the stakes right now?"
"Well I think the president was quite clear and reiterated his point of view this morning, very clearly," Klain replied. "[Russian] President Putin should have no doubt: Any move by the Russian-assembled military across the border of Ukraine is an invasion; it will be met with a very severe economic response from the United States and our allies."
"There is no ambiguity about that, the president has told that to President Putin directly, he reiterated it this morning. If President Putin makes this move, it will be a horrible mistake," Klain continued.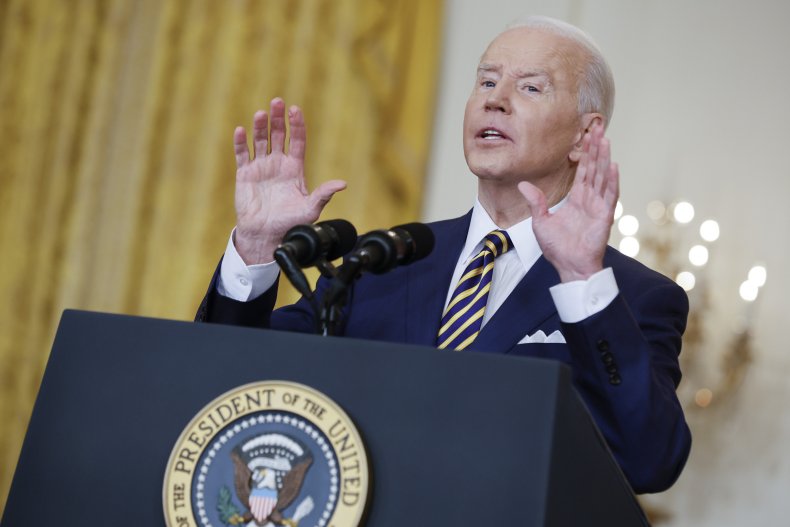 Holt followed up by asking if the United States' European partners, particularly the NATO allies, were concerned by what Biden had said. However, Klain pushed back on that assertion, stating that the president's view on the matter was clear.
"[Biden] has made his views very clear to President Putin, he has made his views clear to the allies ... the president of Russia is on notice."
Klain added that the United States "will have the support of our NATO allies" in implementing economic sanctions against Russia in the event of an invasion.
Psaki echoed a similar sentiment in a statement released shortly after the president's remarks. She stated that Biden's intention was not to downplay any invasion by Russia.
"President Biden has been clear with the Russian President: If any Russian military forces move across the Ukrainian border, that's a renewed invasion, and it will be met with a swift, severe, and united response from the United States and our Allies," Psaki wrote. "President Biden also knows from long experience that the Russians have an extensive playbook of aggression short of military action, including cyberattacks and paramilitary tactics."
White House National Security Council spokeswoman Emily Horne also stated on Twitter that, when Biden was referring to a "minor incursion," he was talking about "the difference between military and non-military/para-military/cyber action by the Russians."
The rush to clarify President Biden's remarks comes as Russian troops continue to amass at the Ukrainian border. This has caused growing tensions between the U.S. and Russia, despite Putin's assertion that his country was not planning to send soldiers into Ukraine.
As a result, the United States has pledged severe economic sanctions if military action were to be taken by Russia. Biden himself stated that it would be "a disaster" for Russia if it decides to invade Ukraine, a sentiment that he further reiterated on Thursday.
"[An invasion] would be met with severe and coordinated economic response that I've discussed in detail with our allies, as well as laid out very clearly for President Putin," Biden reportedly stated during a meeting following his press conference.
Newsweek has reached out to the White House for comment.