White House Praises Trump for 'Ending' COVID Pandemic, Fauci Says Finish 'Not Even Close'
Dr. Anthony Fauci described the COVID-19 pandemic as the "mother of all outbreaks" on Monday, and "not even close to being finished." His comments jarred with a White House press release issued a day later, which cited "ending the COVID-19 pandemic" as among the Trump administration's accomplishments in its first term.
Fauci, a member of the White House coronavirus task force member and the long-serving director of the National Institute of Allergy and Infectious Diseases made the remarks in a discussion with the Yale Institute for Global Health on Monday. A video of the event was uploaded to YouTube on Tuesday.
"Unfortunately we're right now in the middle of what's going to be referred to, I think historically, as the mother of all outbreaks over the last hundred years. And we're not even close to being finished with it yet," he said.
Fauci said he had hoped that the U.S. could have used the summer months to "get a grip" on the outbreak before entering the cooler months. As the weather turns colder and people congregate more indoors, the virus is better able to spread.
"We're not well positioned [going into the winter]," Fauci said.
On Saturday, 83,871 new coronavirus cases were recorded in the U.S.—the highest number reported in a day since the start of the pandemic, according to Johns Hopkins University. That day, 914 people died, down from October's current record of 1,214.
Fauci said that as 30 or more states are seeing upticks in cases, the number of new daily cases in the future will be "even higher than they are now."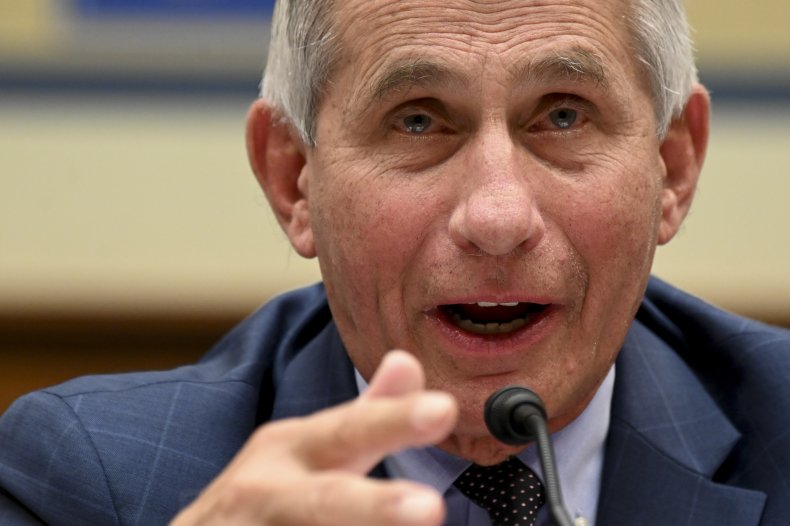 Fauci's remarks were at odds with a press release by the White House Office of Science and Technology Policy, where "Ending the COVID-19 Pandemic" was listed as among the Trump administration's accomplishments, several news outlets reported.
It read: "From the outset of the COVID-19 pandemic, the Administration has taken decisive actions to engage scientists and health professionals in academia, industry, and government to understand, treat, and defeat the disease."
The claim raised eyebrows, with Democratic Congresswoman Val Demings tweeting: "Today the White House sent out a press release of their 'accomplishments.' It included 'Ending the COVID-19 Pandemic' Saturday was the new single day record for confirmed infections.'"
Brian Klaas, associate professor in global politics at UCL in the U.K. tweeted: "Things you can't make up: the White House put out a press release in which they listed 'ending the pandemic' as one of the top accomplishments of Trump's first term in office.
"The US is currently hitting record highs in cases. Roughly 700 to 1,100 Americans are dying every day."
Newsweek has contacted the White House Office of Science and Technology Policy for comment.