The White House Is Using TikTok Influencers to Peddle Propaganda | Opinion
In its continued attempt to help Ukraine fight against a Russian invasion, White House officials and National Security Council staffers gathered 30 influential TikTok stars on a Zoom call to receive guidance and information about the unfolding war in Ukraine and the rising cost of energy. White House director of digital strategy Rob Flaherty told the influencers that he saw their influence as "a critically important avenue" to the American public and asked them to assist the government in "opposing misinformation."
The meeting yielded immediate results. Marcus J. DiPaola, a TikTok influencer with over 3 million followers, was at the White House briefing and went on to tweet the administration's priorities clearly: "The number one message the White House has is U.S. unity with partners & allies. The number two message is to prevent a more expansive war," DiPaola wrote.
18-year-old TikTok star Ellie Zeiler, who has over 10.5 million followers, told The Washington Post how she saw her role. "I'm here to relay the information in a more digestible manner to my followers," Zeiler said. "I would consider myself a White House correspondent for Gen-Z."
The results of the briefing—a humorously uniform bevy of tweets and videos—reveal how slippery the slope is between "fighting misinformation," "civic duty," and just spreading propaganda.
And yet, this is not the first time the Biden White House has deployed social media influencers to promote its agenda. Officials did something similar at the height of the COVID-19 pandemic, when the White House authorized thousand-dollar cash payments to influencers on TikTok as part of a campaign to encourage higher vaccination rates among young people. The goal was to create an "influencer army."
But even the vaccine influencer campaign wasn't the first of its kind of Biden. It amounted to "repurposing the influencer marketing tactics that Mr. Biden had used on the campaign trail toward promoting vaccinations," Flaherty, the White House director of digital strategy, told The New York Times. Those tactics were laid out in a 2021 piece in TIME Magazine that exposed what it called "the Shadow Campaign That Saved the 2020 Election" in a report that detailed alliances between tech companies, business giants, DNC operatives and "left wing" activist groups. "The handshake between business and labor was just one component of a vast, cross-partisan campaign to protect the election—an extraordinary shadow effort dedicated not to winning the vote but to ensuring it would be free and fair, credible and uncorrupted," TIME reported.
A free and fair election is of course a goal worth pursuing. Yet the means outlined here—a shadowy liaison between different private interest groups rooted in social media campaigns and public influence—is something the Democrats are very good at denouncing when such measures are being deployed against Democrats' political goals. Somehow, it's fair game when it's pushing Biden's agenda.
The Biden team's repeated willingness to deploy propaganda works not only to push narratives that are important, like free elections and the use of vaccines to combat COVID-19, but also to squash political dissent—under the guise of civic duty. If the TikTok briefings served the goal of raising awareness and vaccination rates during COVID, they also served the less noble goal of cementing a social consensus about the efficiency of the vaccine for very young people while shaming skeptics. Because that's how propaganda works.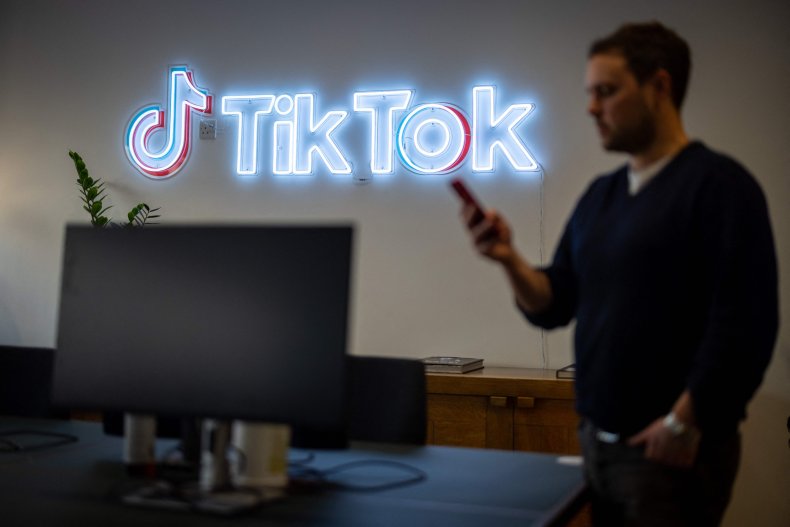 You're seeing something similar with the latest round of TikTok influencers deployed to fight the White House's propaganda battle on inflation and skyrocketing gas prices, which is using attractive young people whose online existence is little more than a full-time marketing gig to evade responsibility for rising costs by blaming economic failures on Putin's actions.
The cultural appeal of TikTok influencers and young people who fulfill themselves by doing creative work online is already controlled and instrumentalized by social media platforms that thrive on clicks and views. It's even more alarming to witness government powers use similar methods to engineer consensus by tapping into this influence to generate propaganda. The Biden administration's clandestine relationship with Big Tech allows these state-sanctioned messages easy access to public consciousness while forcing dissenting perspectives away from the mainstream arena.
Although we all like to think we are, nobody is immune to propaganda. And in times of international conflict and global turmoil when it is deployed more brazenly, vigilance and skepticism are the keys to maintaining a clear view of reality. The seedy and anti-democratic coalition between Big Tech and the liberal establishment and their deployment of influencers to distract from government failures will only intensify as the conflict abroad continues.
Angie Speaks is a cultural commentator and cohost of the Low Society Podcast.
The views in this article are the writer's own.