White House Vaccine Chief Defends Progress as COVID Vaccinations Fall Short of 20M Goal
The White House didn't meet its goal to vaccinate 20 million people in December, but Moncef Slaoui, the chief adviser to Operation Warp Speed, defended the work the team has done so far and urged states to make "specific requests" for vaccines.
Vaccines for the new coronavirus were developed in record time, in part because of the White House's financial investment. Inoculations are considered an integral part of resuming normal life and curbing the pandemic, and up to 90 percent of the population—about 295 million people—may need to be inoculated before the country reaches the necessary level of herd immunity.
As of Saturday, about 4.2 million people had received the first dose of the vaccine, according to the U.S. Centers for Disease Control and Prevention (CDC), about 16 million people shy of the White House's goal.
"I wish we had vaccinated 20 million, obviously," Slaoui told CNN's New Day on Monday. "We will continue to work day and night to have them immunized."
Slaoui denied anything went "wrong" with the White House's plan to distribute the "ambitious" number of inoculations and championed the progress that has been made. In less than a year, he noted, two vaccines were made available to the public and 40 million doses were created, enough to vaccinate 20 million people. As of Saturday, 13 million doses had been distributed, according to the CDC.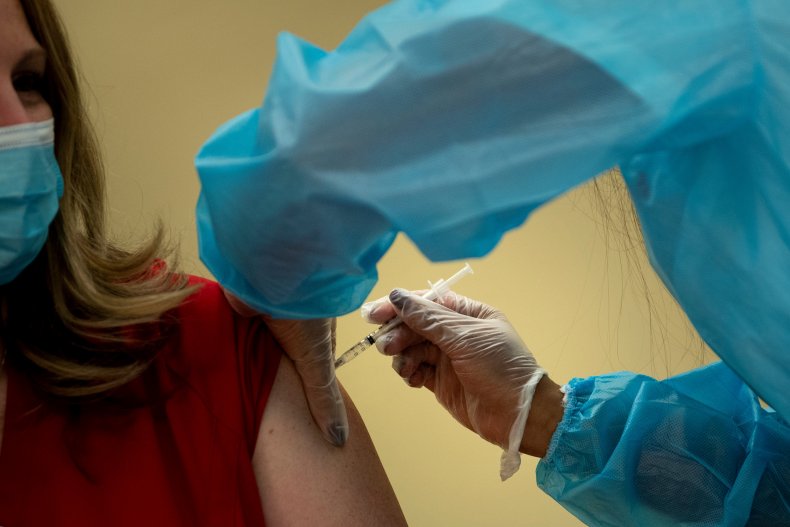 While the federal government is spearheading the vaccine development and distribution effort, Slaoui said it's up to state officials to decide how many vaccinations are needed and where they should be sent.
"We are available and ready to help the states as they ask specifically for help," Slaoui said. "We will go and help them there. I don't think it's possible for the federal government to say we're going to send vaccines to this particular location."
To boost the number of people vaccinated in a short period of time, White House officials are also considering giving half doses to those who are considered less vulnerable. On Sunday, Slaoui told CBS' Face the Nation they're discussing giving people between 18 and 55 two half doses of the Moderna vaccine, doubling the number of people who could be immunized with the current supply of doses.
The United States is vaccinating only half the number of people than there are doses for, to ensure there are enough doses for people to receive the second shot, which Slaoui says provides 10 times more immunity than the first. This differs from other countries, which are vaccinating as many people as possible and worrying about second doses later.
Slaoui and Dr. Anthony Fauci, director of the National Institute of Allergy and Infectious Diseases, disagreed with this strategy, saying it goes against the science. It's unclear what stretching out the time between doses would mean for immunity, and Fauci said supply isn't the problem in the U.S.
"We have vaccine. We need to get it into people's arms," Fauci said. "Right now, if we do it efficiently the way we've planned, it's much better than trying to stretch it out and not having a scientific basis of knowing what happens if you wait."
Pfizer's vaccine received an emergency use authorization from the Food and Drug Administration on December 11 and Moderna's vaccine followed a week later. The number of inoculations in the weeks since is lower than what White House officials hoped to see, Slaoui admitted, but he was optimistic the number would increase now that the holiday period is over.
In the past three days, he said, 500,000 doses were administered and the federal government will continue to work with state officials on how best to distribute doses. The government, he added, isn't in a position to "decide where to help them."