White House Voices Support for Israel After Palestinian Gunman Kills 5
Following an attack by a Palestinian gunman that killed five people in Israel, the White House offered support to Israeli Prime Minister Naftali Bennett.
The gunman opened fire on Tuesday in Bnei Brak, a suburb of Tel Aviv, before being shot dead.
"We are appalled by the terrorist attack tonight near Tel Aviv and stand with our Israeli allies in the face of such barbarism," said White House National Security Advisor Jake Sullivan. "This is the third such attack in eleven days. We have offered all relevant support to Prime Minister Bennett and his government."
The gunman was identified as Diaa Hamarsheh, 26, a Palestinian from the town of Ya'bad in the West Bank. Israeli news outlets say Hamarsheh was in Israel illegally and celebrations were reported outside his family home after the attack.
The incident underscored fears of escalating violence ahead of the Muslim holy month of Ramadan, during which tensions between Israeli police and Palestinian protesters have boiled over in recent years.
"Israel is facing a wave of murderous Arab terrorism," Bennett said, according to The Times of Israel. "The security forces are at work. We will fight terrorism with persistence, diligence and an iron fist."
According to police, the gunman arrived at the scene in a car, exited and opened fire with a large rifle. He killed three people at the first location and ran a couple hundred feet before killing two more people, including a police officer, authorities said. He was later killed by two officers after the attack.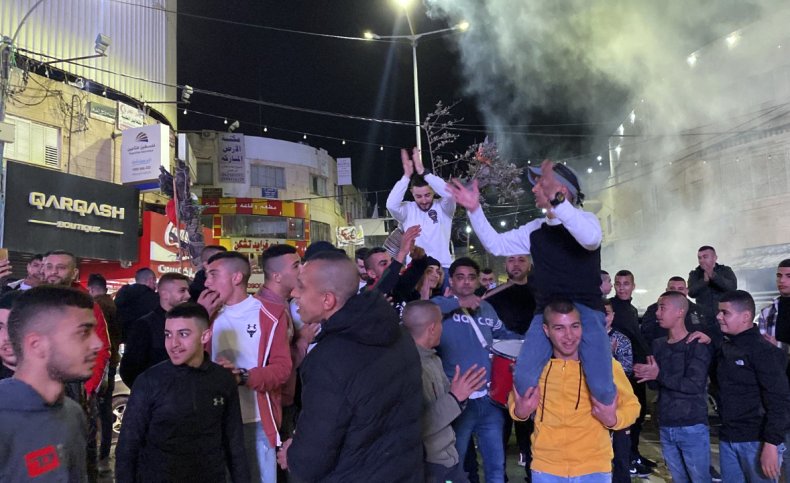 According to Al Jazeera, a state-owned Arabic-language news outlet, the Islamic State of Iraq and the Levant (ISIL) claimed responsibility for two of the previous attacks in the past week. ISIL, formerly known as al-Qaeda in Iraq, has been branded a terrorist organization by the United States. ISIL made no immediate claim of responsibility for the most recent attack.
As of Tuesday, Israeli security forces had raided the homes of at least 12 Palestinian citizens in Israel, and arrested two suspected of having ties to ISIL, as part of a crackdown sparked by the recent attacks, according to Al Jazeera.
Mahmoud Abbas, president of the Palestinian Authority, which manages parts of the West Bank, condemned the killing of Israeli citizens.
"The killing of Palestinian and Israeli civilians will only lead to further deterioration of the situation, especially as we are approaching the holy month of Ramadan and the Christian and Jewish holidays," Abbas said.
Newsweek reached out to the Israeli embassy for comment.
Updated on 03/30/2022 at 08.07 a.m. ET with additional material