White House Women Face Bigger Gender Pay Gap Than National Average
Women working in U.S. President Donald Trump's White House earn less than men on average, according to new data.
The White House released salary information of its 377 staffers on June 30 in line with a Congressional rule dating back to 1995. The data revealed that the White House has a wider gender pay gap than the national average.
The average gender pay gap in the U.S. in 2016 was 18.1 percent, meaning that for every dollar earned by a man, a woman earned 81.9 cents, according to data from the Organization for Economic Co-operation and Development (OECD).
But the gender pay gap in the White House stands at 20 percent, CNN reported, with women earning 80 cents to every dollar earned by a man. The difference in pay does not neccessarily mean that women's salaries are lower for doing the same job, but that there are less women in high-paid roles.
Of the 22 staffers paid the highest White House wage ($179,700.00), only five are women: senior advisor Kellyanne Conway, director of communications for the office of public liaison Omarosa Manigault, deputy national security advisor Kathleen McFarland, deputy national security advisor from strategy Dina Powell, and chief of staff to the First Lady Lindsay Reynolds.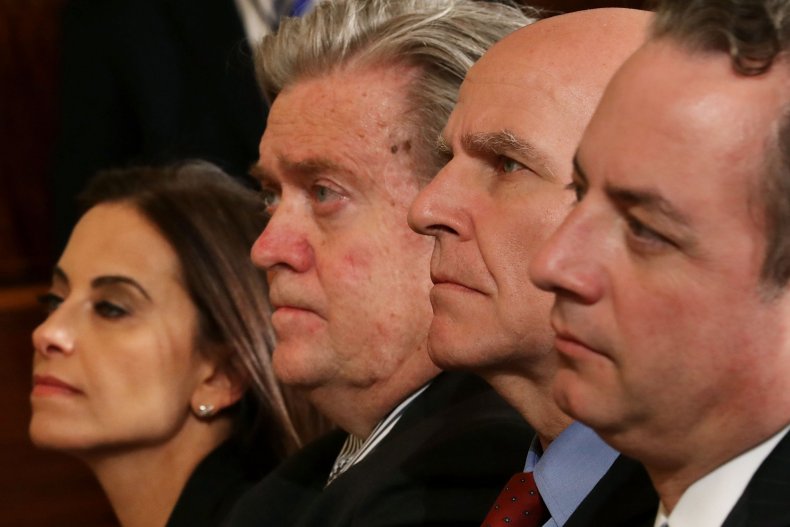 In the lower-paid bracket, where salaries are up to $50,000, women and men are relatively even, although some of Trump's lowest paid staffers are in senior roles. These include Gary Cohn, Trump's chief economic advisor and former Goldman Sachs president, and Chris Liddell, Trump's director of strategic initiatives and former General Motors and Microsoft executive, who both take home $30,000.
The total 377 staffers, who also include First Daughter Ivanka Trump and her husband Jared Kushner who both receive nothing for their role of special advisors to the president, represent a "slimmer" White House than President Barack Obama's final year staff of 472 (down from 487 in his first year).
But personnel in Trump's White House generally cost more than those in Obama's, with a median salary of $89,000 compared to the $73,051 earned by a White House staffer in 2016.
When it comes down to gender pay gap, Obama's White House was not perfect but the difference was narrower: in 2014, the difference between the median salary of a male compared to a female staffer was 13 percent, lower than the then national average of 23.5 percent, the Washington Post reported.
At the time, press secretary Josh Earnest admitted there was space for improvement of female representation at the higher-salaried levels. "I wouldn't hold up the White House as the perfect example here," he said, "The White House has some improvement to make."
The news of the wider gender pay gap in Trump's White House comes as his administration considers disbanding Obama's White House Council on Women and Girls, responsible for monitoring the implementation of policy changes and liaising with women's groups, as reported by Politico.
Tina Tchen, who was the council director under Obama, told the publication the office helped signalling the administration's concerned with gender inequality. "It shows the priority you place on the issues surrounding women and girls," she said.