Rare White Killer Whale Spotted in Washington During Mass Orca Sighting
Conservationists are delighted by the unexpectedly high number of orcas (also known as killer whales) spotted around the state of Washington over the weekend.
Close to 20 have been seen in Puget Sound since Friday and approximately 40 were sighted in the Strait of Juan de Fuca on Saturday, KOMO News reported. The addition of last week's orca sightings puts this year's number of orca sightings in the Salish Sea above that for the entire 12 months of 2018.
The Salish Sea is a complex network of coastal waterways that cross Cascadia, a bioregion that includes southwestern parts of British Columbia and northwestern parts of Washington state.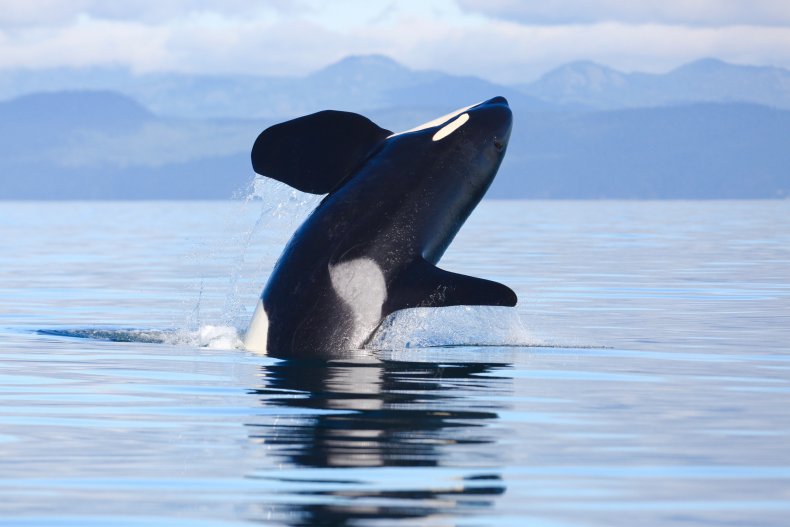 "This will be the eighth year in a row of increased transients in the region, with their presence having increased five-fold over that time," Monika Wieland Shields, president of Orca Behavior Institute, told KOMO News.
"To put that in perspective, there were 125 reports of Bigg's killer whales in the Salish Sea in all of 2011. This year, we reached 125 reports before the end of April."
The whales sighted consisted of almost 10 orca families, one of which is rarely seen and was only photographed for the first time in the late 1990s. There were also sightings of Tl'uk, the "little white whale."
White (or albino) whales like Tl'uk are extremely uncommon but are becoming a more familiar sight in this part of the world—a trend many biologists say could be a sign of inbreeding and ill health, according to New Scientist.
There have been several sightings of white orcas in the western North Pacific since conservationists first spotted Iceberg, a twenty-something albino whale, in 2010.
According to the Georgia Strait Alliance, a marine environment conservation group, there are approximately 400 Bigg's killer whales in the Pacific Northwest. These are "Transients," whose home range extends from Alaska to Northern California, and are continually on the move—a behavior that makes them particularly difficult to track.
Studies suggest Bigg's killer whales do not interbreed with resident populations of whales but, instead, have remained genetically distinct from their home-body relatives for more than 750,000 years. Their diet and social structure also set them apart from other "ecotypes."
Bigg's killer whales prefer to prey on marine mammals and have benefitted from the revival of the area's Harbour seal population, which has recently returned to healthy and stable levels for the first time since the Marine Mammal Protection Act was introduced, the Georgia Strait Alliance reports. Meanwhile, social structures tend to be looser and smaller than resident populations, where pod numbers can reach in excess of 30 members.
The year-on-year increase in sightings suggests these nomadic whales are faring better than their resident counterparts, with the Southern Resident population, in particular, facing steady losses. The Center for Whale Research (CWR) reported the loss of three adult orcas in July, bringing numbers down to 73.