White Lives Matter Protesters Urged to Wear Face Masks for Anonymity in April 11 Rallies
Advertisements for "White Lives Matter" rallies to be held Sunday urge demonstrators to wear face masks "for anonymity," rather than for protection from the coronavirus.
The marches across "all major city centers" will take place at 1 p.m. on April 11, according to posters advertising the march, reported Valley News Live in Fargo, North Dakota. Cities across the U.S., including New York, Chicago, Fargo and Fort Worth, are anticipating the march, as well as counter-protests.
White Lives Matter is a "racist response to the civil rights movement Black Lives Matter" and "a neo-Nazi group that is growing into a movement as more and more white supremacist groups take up its slogans and tactics," according to the Southern Poverty Law Center.
Vice reported Friday that the White Lives Matter movement has been organizing the nationwide "The March for White Lives" on the encrypted messaging platform Telegram since last month.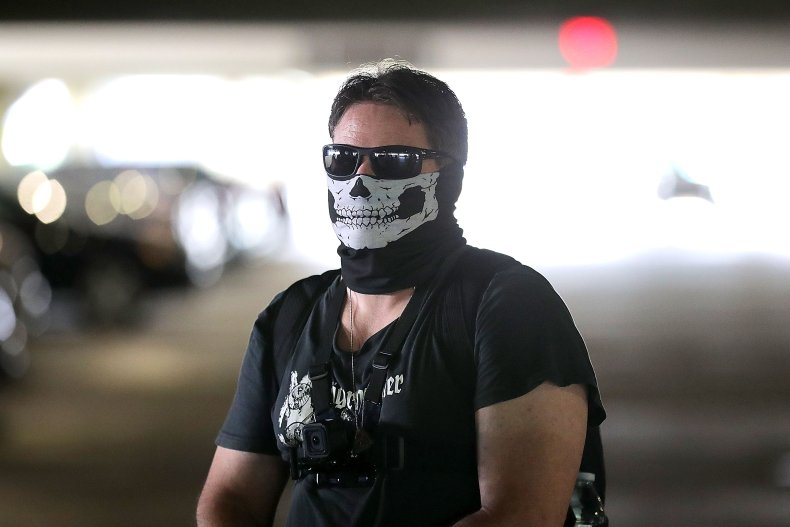 Telegram users have urged supporters to put up White Lives Matter flyers "all over the place" spreading the word of the rally and prompting attendees to wear masks to hide their identities, according to the Dallas Observer.
"We are your worst nightmare," a post in the Dallas-Fort Worth Telegram channel cited by the Observer read. "We are what you are most scared of. We are normal White People who keep this country alive. We are the Tax payers [sic]. We are the Church goers [sic]. We are the 'normies.' We are the 'manipulable' [sic]. We are the organic body you parasites feed off."
By "parasites," the author of the post referred to members of the media who would cover the event, according to the Observer. The post then continued to speak of a conspiracy theory of "white genocide," an unsubstantiated claim that hate crimes against white Americans are a trend in the U.S..
Telegram messages from Texas administrators of the rally state the march won't include Nazis or members of the Ku Klux Klan (KKK). But activists in North Dakota have responded that the call for face coverings harkens back to rallies at the height of the KKK in the early 20th century.
"It made me think of the 1940s and 50s when they used white sheets and cut holes in them," Faith Dixon, a leader of the Fargo Black Lives Matter chapter, said to Valley News Live. Another community member, Jaida Fosse, commented to the network that in wearing facial coverings, it's "like they know that they're doing something wrong otherwise they wouldn't need to be anonymous. If they were proud of it, they should show who they are."
Members of Fargo's Black Lives Matter chapter and community members have organized a counter-protest because "we just need to let these folks know that this is not tolerated and that this is unacceptable," Dixon said. "It's always a safety concern that we might have someone who might not be in their right mind, or might want to see this turn into a race battle, or a race war, but we're coming in peace."
According to Valley News Live, as of Saturday morning Fargo police said there would be no police presence or extra officers in the area surrounding Fargo City Hall.
Despite calls for a peaceful march, Telegram content from "White Lives Matter Texas" channel doesn't rule out of potential demonstrators coming armed to march.
"Most places in Texas you should be allowed the freedom of open carry," the post read, according to the Dallas Observer. "If you have a license to conceal carry then you should know all the rules involved."
Newsweek has reached out to the City of Fargo, the North Dakota NAACP, and the Fargo-Moorhead chapter of Black Lives Matter for comment on the rally, but did not receive a reply by publication time.