Police are investigating the robbery of a PNC Bank in Perryville, Maryland, in which the suspect appears to be wearing blackface as a disguise.
WBFF reported the man entered the bank branch off of the Pulaski Highway on January 28. He approached the teller and passed her a note demanding money. The robber did not appear to be carrying a weapon.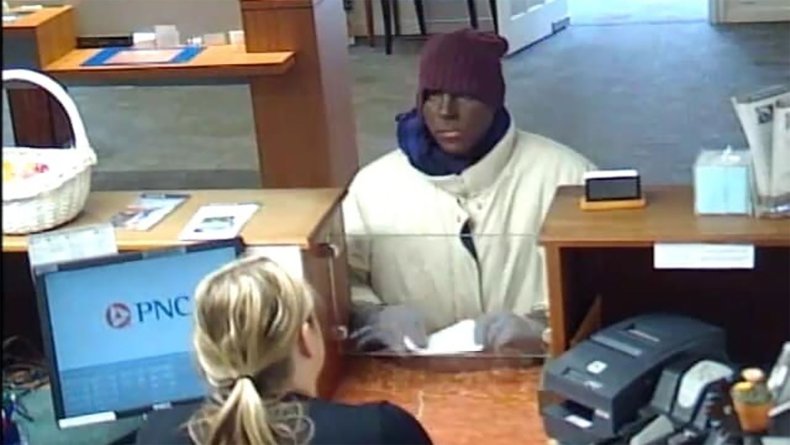 Witnesses described the suspect as a white male, standing approximately 5'5". He was clad in a large white parka with blue lining, gray gloves and a purple knit cap. His most distinguishing feature was the brown makeup that he had used to completely cover his face.
Perryville police did not respond to a request for comment about how much money the robber was able to escape with, if any.
The Perryville Police Department posted on their Facebook page requesting any information the public might have on the identity of the robber. However, the post was quickly overwhelmed by "derogatory and/or vulgar" comments and officials removed the post.
Blackface, a racist stereotype, has been used as an attempted disguise in bank robberies in the past. In 2017, the East Bay Times reported that Jerrad Schmittle was arrested in conjunction with a bank robbery in Corona, CA.
According to police, in August of that year, Schmittle walked into a Wells Fargo branch and passed the teller a note demanding money, claiming that he had a gun. However, he lost his nerve shortly afterward and fled the scene before any cash was handed over.
In surveillance footage, the suspect can be seen clad in a gray hoodie and blue beanie with brown makeup unevenly slathered to his face in an attempt to disguise his race. Evidence led police to Schmittle, and he was arrested after a search of his house.
The next year, 27-year-old Cameron James Kennedy donned blackface to rob the cashier cage on the casino floor at Las Vegas's New York-New York Hotel and Casino, according to the United States Attorney's Office of the District of Nevada. The Las Vegas man displayed a handgun tucked into the waistband of his pants and made off with $23,367, which he spent on marijuana and jewelry.
In addition to dark makeup, Kennedy wore glasses and a beanie to further disguise his appearance, and it initially worked, with police describing the suspect as an African-American male. However, Kennedy was eventually identified through his unique gold mouth grill.
After his arrest, Kennedy pled guilty to one count of interference with commerce by robbery. At the time, he was on probation after serving a 63-month sentence for two previous bank heists.