White Man Tells Black Teen in Gated Community She Doesn't Belong There
A video showing a white man telling a black teenager in a gated community that she doesn't "belong" there has gone viral on social media.
"I don't care if you take my picture… because you don't belong in this development," the man shouted at Breonna Nelson-Hicks, a 15-year-old, on Sunday, according to the Palm Beach Post.
The incident took place in Wellington, west of West Palm Beach, Florida.
Lake Worth Beach City Commissioner Omari Hardy shared the video on Twitter on Wednesday and it has since attracted almost 200,000 views.
"RETWEET until this man is identified!" Hardy wrote. "He harassed a group of black teens in a gated community in the affluent Village of Wellington, here in my county.
"According to him, "they didn't belong in this development." According to the teens, he threatened to hit them w/ his car." Hardy has been contacted for comment.
Nelson-Hicks and four other teenagers had been riding in a golf cart when a man started following them in his Toyota sedan, the Post reported.
They had traveled from a community called The Isles to another called Grand Isles, where Nelson-Hicks lives. Two boys who were in the cart stopped and ran after being frightened by the driver tailgating them, according to the newspaper.
So Nelson-Hicks and two other girls, who are both white, started walking the rest of the way to her house.
But the man still followed them in his car and then got out to yell at them—at which point, one of Nelson-Hicks' friends got out her phone and started filming.
"What's your name?" the man asked Nelson-Hicks, as seen in the clip.
"I'm not telling you," the girls replied.
"I live here," Nelson-Hicks said.
"OK, where do you live?" he asked.
"Why would I tell you any of this?" one of the girls asked the man.
"OK, I'm going to call the gate and have you all arrested," the man replied.
According to the Post, he said to Nelson-Hicks: "You do not deserve to be in here."
"OK," one of the girls replied. "What did we even do wrong?"
When Nelson-Hicks suggested that she go inside and get her grandfather, the man responded: "Yeah, bring him out right now, bring him out right now."
After a neighbour tells the girls "just don't argue" and "it's not worth it," the man continued: "It is because you're driving illegally."
"OK, but you're coming at 15-year-olds," one of the girls said. Another asked: "So you're going to hit us with a car?"
The man added: "Because you're 15 years old, you could marry in Mississippi or Alabama."
At this point, Nelson-Hicks' grandfather Tony Nelson, 62, came out of the house and spoke to the man, according to the Post.
"Don't stick your hand out," he told the man. "Did you threaten a child?"
"I did not threaten, I did not threaten a child," the man replied.
"I have it on video," the girl filming said as the clip ends.
Nelson told the Post the incident was "not about the golf cart."
He said he had continued to speak to the man and told him he had threatened and scared the teenagers.
The man tried to defend himself, then offered to apologize to the girls, Nelson said, but he told him it was too late.
Both Nelson and the man in the video filed a report with the Palm Beach County Sheriff's Office, a spokeswoman for the sheriff's office confirmed to Newsweek.
She that the man, who wasn't identified, had told deputies he had almost hit the golf cart the teenagers were in.
"We received two calls and when the deputies arrived, the male had already gone home," she said. "Deputies did speak to the juveniles and made contact with the male next day. Based on both accounts no crime was committed."
Nelson recently discussed ways he could get more involved in his community with the Village Manager in Wellington, which like other places across the country has seen protests against racism in recent weeks.
"I can't let it die," he told the Post of the incident involving his granddaughter. "People aren't understanding what's going on."
Nelson has been contacted for additional comment.
This article has been updated with information and comments from the Palm Beach County Sheriff's Office.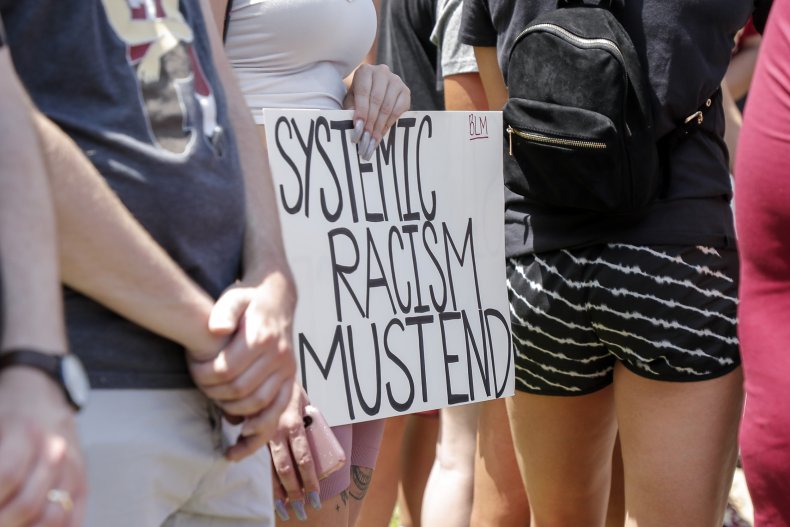 White Man Tells Black Teen in Gated Community She Doesn't Belong There | U.S.