White Nationalist Propaganda Has Doubled Nationwide Over The Last Year: Report
Distribution of white supremacist propaganda in the United States more than doubled in 2019 compared with the prior year, according to a new report prepared by the Anti-Defamation League (ADL).
In 2019, the nonprofit noted, there were 2,713 reported cases of white supremacist material, up from 1,214 in 2018. This represents the most cases the ADL has ever documented in a single year.
"White supremacists see propaganda distribution—including fliering, leafleting and stickering—as a convenient and practically anonymous way to promote their messages of hate and intolerance," the group's CEO, Jonathan Greenblatt, said in a press release.
"While we know extremists and hate groups are emboldened by the current environment, this surge in fliering and propaganda distribution powerfully demonstrates how bigots are able to spread their message without compromising their anonymity," he added.
Of the total, 630 incidents in 2019 occurred on school campuses, a little less than double the number of campus incidents that took place in 2018. The propaganda efforts included messages targeting minority groups, such as African Americans, Jews, Muslims and LGBTQ people, among others.
The most frequent occurrences of white supremacist messaging were found in California, where 298 incidents were reported last year; Texas, where 260 incidents were reported; New York, where 172 incidents were reported; and Massachusetts, where 148 incidents were reported.
The propaganda efforts were largely directed by three white supremacist groups, according to the ADL. Patriot Front, the American Identity Movement and the New Jersey European Heritage Association were connected to approximately 90 percent of the incidents documented in the report.
Patriot Front, a white supremacist group, was formed after the splintering of another extremist group, Vanguard America, in the wake of the deadly "Unite the Right" rally in Charlottesville, Virginia, in 2017, according to the Southern Poverty Law Center.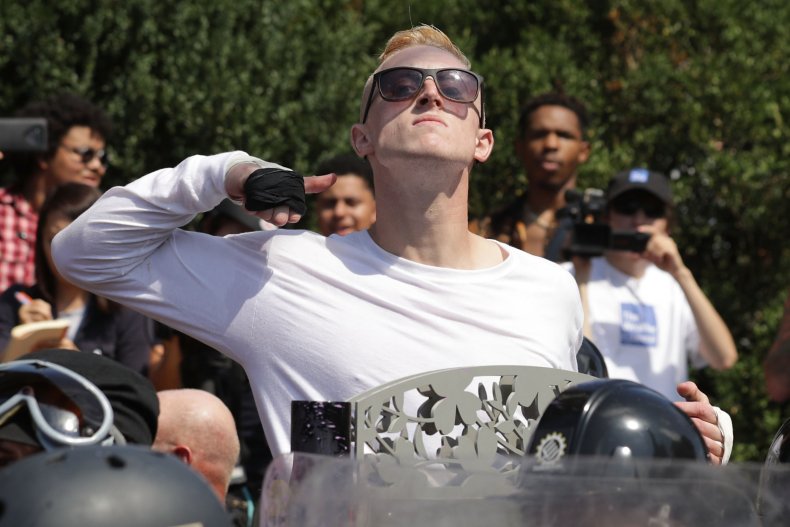 Patriot Front's previous on-campus activities provide grist for the ADL's focus on extremism in educational settings.
In 2017, Thomas Rousseau, Patriot Front's founder, delivered a speech at the University of Texas, Austin, before a couple dozen demonstrators brandishing lit torches. "Our nation stands before an existential threat," he warned.
"The lives of your children, and your children's children, and your prosperity beyond that, dangle above a den of vipers," he continued. "A corrupt, rootless, global and tyrannical elite has usurped your democracy and turned it into a weapon, first to enslave and then to replace you."
Terms such as rootless and global are commonly understood to be placeholders for Jewish-Americans.
Flyers disseminated by hate groups in 2019 often focused on themes of "censorship" and free speech, anti-Jewish tropes and nationalist rhetoric. Many called for preserving America's identity as a "white culture," conflating that message with an appeal to nationalism or patriotism.
In early February, FBI Director Christopher Wray told Congress that his agency now understands the risk posed by racially motivated extremist groups to be "on the same footing" as that coming from foreign militant organizations such as ISIS.
"We're particularly focused on domestic terrorism, especially racially or ethnically motivated violent extremists," he told the House Judiciary Committee during an oversight hearing. "Not only is the terror threat diverse, it's unrelenting."
In September, the Department of Homeland Security unveiled a new strategic framework for combating such domestic threats in recognition of the "mass attacks" that have besieged "our houses of worship, our schools, our workplaces, our festivals and our shopping spaces."
The program was devised to respond to what the department perceives to be a diversifying set of motivations for domestic assailants, such as extremism based on racial and ethnic triggers.
"Communication advances have likely contributed to compressed 'flash-to-bang' timelines, the period between radicalization to violent extremism and mobilization to violence," a September report from the department said.