White Nationalism Is a Greater National Security Threat Than North Korea, Say Troops
A poll conducted in late July and early August said that active-duty members of the U.S. military believe white nationalism presents a greater threat than North Korea to the country.
The poll was conducted between July 27 and August 10 by Military Times and Syracuse University's Institute for Veterans and Military Families with a margin of error below 2 percent. Of the 1,018 individuals surveyed, 47.6 percent told pollsters they considered white nationalism to be a "significant" threat to national security.
About 40 percent of respondents said they felt the same about North Korea, the poll said. The result represents an increase of about 5 percent since last fall, at which time a similar poll found 35 percent of active-duty respondents rated North Korea as a "significant" threat.
More than half of the active-duty minorities who responded to the poll said they have experienced or witnessed acts of racism or white nationalism within the military, a number that pollsters said has increased by about 4 percent since the fall of 2019. The percentage of all active duty respondents who said they have seen a racist or white nationalist incident has declined since 2019 but is up by 23 percent since 2017, pollsters said.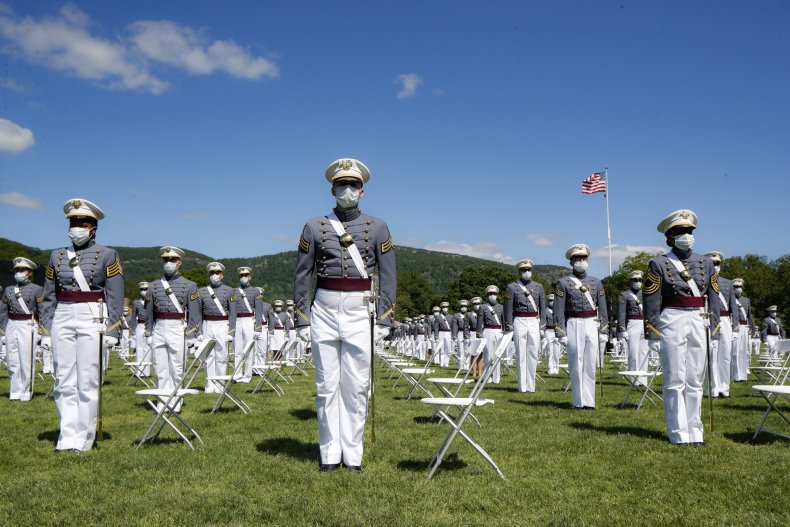 While nearly half of all active-duty respondents marked white nationalism as a serious cause for national security concern, a far greater number—86.5 percent—said the same about China, which topped cyber terrorism on the list of most concerning threats by less than 1 percent.
Nearly the same volume of respondents who expressed concern about white nationalism also rated ISIS, Al Qaeda and foreign terrorists as significantly dangerous to national security. Afghanistan made the bottom of the list at 10.3 percent, and a few more respondents—21.4 percent—said immigration is a significant threat.
The poll documenting troops' heightened concerns about white nationalism comes at a time when protests calling for an end to systemic racism have swept the nation throughout the summer months. Violent and threatening incidents inspired by white nationalism caused Federal Bureau of Investigations Director Christopher Wray to announce earlier this year that such incidents were the "most lethal" of all those perpetrated domestically over the last two decades.
"Racially/ethnically motivated violent extremists were the primary source of all ideologically-motivated lethal incidents and violence in 2018 and 2019 and have been considered the most lethal of all domestic violent extremists since 2001," Wray told the House Subcommittee on Intelligence and Counterterrorism in February. "Trends may shift, but the underlying drivers for domestic violent extremism—which includes socio-political conditions, racism, and anti-Semitism, just to name a few—remain constant."
Some poll participants documented the kinds of incidents they have witnessed among their colleagues. One told the paper that they have heard colleagues complain about the lack of a "white pride" celebration month. Another said they have witnessed other troops and members of the leadership expressing white nationlist or racist sentiments.
"I've seen multiple soldiers online disrespecting the Black Lives Matter movement and the plight of people of color in our nation," a poll respondent told Military Times. "I have seen leadership on multiple occasions say that the protesters should be shot, that our president should be more violent when dealing with the protesters."