President Donald Trump said Wednesday that the way to fight an increase in anti-Semitism and white nationalism in the United States is by renegotiating trade deals with China.
When a reporter asked the president about the unprecedented increase in anti-Semitic acts on U.S. soil over the past two years, including the deadliest attack on Jews in American history just 10 days ago, he said that he had moved the U.S. Embassy in Israel from Tel Aviv to Jerusalem for a small amount of money and that "nobody has done more for Israel than Donald Trump."
The reporter clarified that she was asking about domestic hate crimes and asked the president what he was doing to prevent the rise of white nationalists on American land. "One of the things that I think can help heal is the success of our country, and we are really successful. We've gone up $11.7 trillion in worth, and China has come down tremendously," Trump said.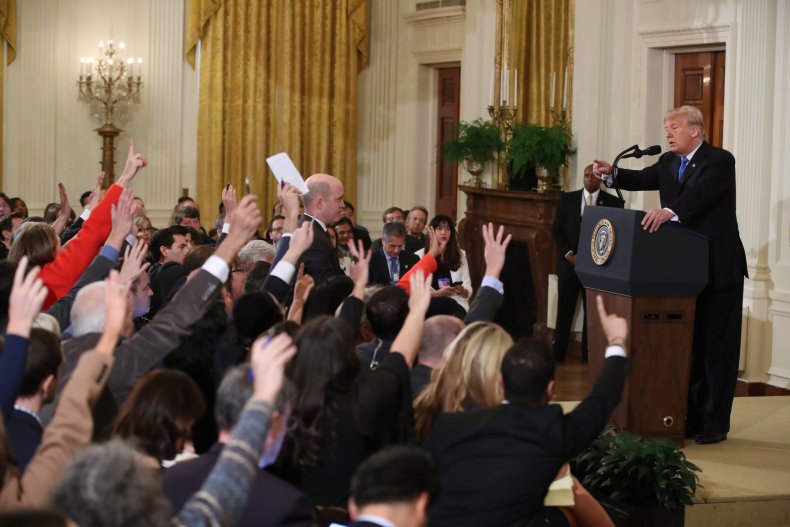 The president went on to discuss China's economic outlook and added that the country would have "superseded us within two years as an economic power and now they're not even close." He then discussed his trade policy and tariffs with China.
The reporter tried again, "Mr. President, how do you see your role as a moral leader?" she asked. "I think I am a great moral leader, and I love our country," he replied.
Later in the conference, another reporter asked the president about how he planned to address an increase in hate crimes and right-wing extremism. The reporter asked specifically about the White House decision to end a Homeland Security program to prevent domestic terrorism and violent extremism last November.
"Do you believe that white supremacists and homegrown terrorists are a problem?" the reporter asked.
"I do believe that's a problem, I believe all hate is a problem, and it's a problem we want to solve," said the president. When the reporter asked how, Trump said that he has given it funding, though didn't explain where or how, and that it's a problem that "I don't like even a little bit."
Anti-Semitic incidents in the U.S. have increased by 57 percent since 2016. Two weeks ago, 11 Jews were killed and another 7 were injured in a mass shooting at the Tree of Life synagogue in Pittsburgh. The shooter, 46-year-old Robert Gregory Bowers, allegedly shouted "All Jews must die!" before opening fire.
Just days before the shooting, Cesar Sayoc, a supporter of President Donald Trump, sent a number of pipe bombs to Democrats, Trump critics and media organizations.
Last year after white nationalists marched in Charlottesville, Virginia, and killed one protester, the president was reluctant to condemn the neo-Nazis, saying at first that there were "good people on both sides."
The vast majority of American Jews, about 80 percent, voted for Democrats in Tuesday's election, according to a CNN exit poll. That's up from about 70 percent in 2016.