A self-described white nationalist who said last month's Pittsburgh synagogue massacre was a "dry run for things to come" was arrested on a gun charge in Washington, D.C., on November 9.
Jeffrey R. Clark Jr., 30, was online "friends" with alleged Tree of Life synagogue shooter Robert Bowers, CBS News reported. Clark was charged with illegally possessing a firearm and a high-capacity magazine, according to The Washington Post. He appeared Tuesday in U.S. District Court in Washington.
Clark was arrested after family members alerted authorities that he was having agitated outbursts, according to court files cited by the Post. He reportedly said that the 11 people murdered in Pittsburgh "deserved it."
Prosecutors said Clark posted on social media network Gab, a platform used by far-right figures prohibited from more mainstream platforms, that the shooting victims "were all active supporters of pedophilia…and every last one of them deserved exactly what happened to them and so much worse." He also said the killings were justified because "a homosexual Jewish couple was having an adopted baby circumcised that week," according to NBC News, which cited legal documents.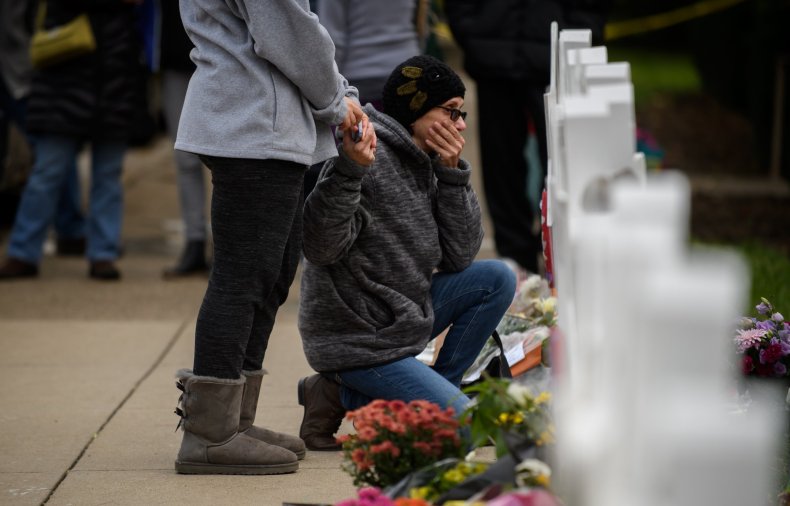 After the Pittsburgh shooting, Clark posted a photo on Gab in support of Bowers, CNN reported. The image showed Clark and his 23-year-old brother, Edward Clark, holding a shotgun and rifle while wearing masks, according to the Post.
The white nationalist allegedly described himself on Gab as a "Meth-Smoking, Pipe bomb making, mailman-murding…Che Guevara of the altright." He idolized Oklahoma City bomber Timothy McVeigh, Ted Kaczynski (aka the Unabomber) and cult leader Charles Manson, family members said.
His brother fatally shot himself within hours of the rampage at the Tree of Life Synagogue on October 27. The pair "fantasized about killing 'Jews and blacks,'" court documents said.
They owned four registered guns—two handguns, a shotgun and a rifle—and Clark gave law enforcement another unregistered handgun. Officials also said they found two muzzleloader pistols, two ballistic vests, two ballistic helmets, two gas masks, shotgun shells and devices to transform semiautomatic AR-15 rifles into automatic weapons.
The Clark brothers attended the "Unite the Right" rally last year in Charlottesville, Virginia.
Family members said they thought the pair took photos with James Alex Fields, the man accused of driving his crowd into counter-demonstrators. Heather Heyer was killed by the attack, which left 19 people injured.
Scores were injured during the rally in clashes that erupted between the conglomeration of neo-Nazis, white supremacists and alt-right groups and counterprotesters, including anti-fascist organizations.