White Nationalist Rally That Urged People to 'Bring Guns' Folds Under Security Concerns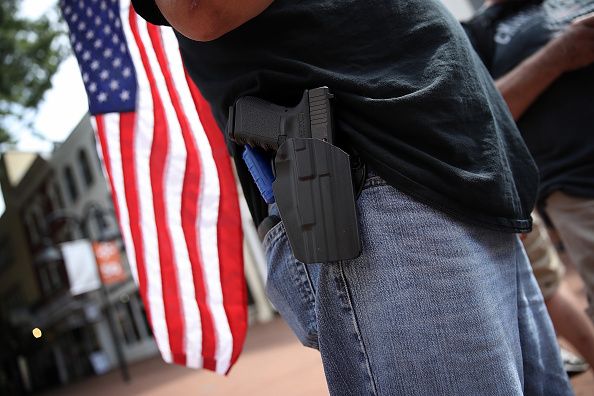 Well, that was fast.
An "anti-communist" rally boasting a who's who of white nationalist speakers that was to be held three days after Christmas at Marshall Park in Charlotte, North Carolina—near a Holocaust Memorial and a statue of Martin Luther King Jr.—has been called off due to "security concerns."
The cancellation raises questions about the viability of these types of rallies in the aftermath of the violence that took place in Charlottesville, Virginia, last August.
The "March Against Communism" rally, planned by a group called Anticom, which via online advertising urged participants to "bring guns" to the event, was slated to include speakers such white nationalist activist Richard Spencer; Augustus Invictus, a onetime Libertarian Party candidate for Senate from Florida; and a representative of the white nationalist group Vanguard America—all familiar names to anyone who payed attention to the chaos in Charlottesville, when alleged white supremacist James Fields rammed his car into a crowd of counterprotesters, killing an activist named Heather Heyer.
"In light of safety concerns, we'll no longer be holding an event in Marshall Park. This was agreed upon by both organizers and guests," a tweet from Anticom says.
The news came after Spencer, the most high-profile speaker, pulled out.
"After thinking it over, I informed the organizers on Monday that I have to cancel my appearance," Spencer writes on Twitter. "I can handle my own security. I worry about the safety of others in an open-field situation."
Newsweek reached out several times to a spokesman for Anticom who offered details about the rally before it was canceled, but did not receive a reply. The group had previously been active on Discord, a popular freeware app designed for gamers, where neo-Nazi accounts purportedly planned acts of violence in Charlottesville, but as of Thursday afternoon, Anticom's server was no longer in use. Newsweek attempted to contact Discord to find out whether the group had taken it down or had been banned from the app, but did not immediately receive a response. The group has launched a website hawking merchandise featuring Pepe the frog, a cartoon that has been appropriated by the so-called alt-right.
The Charlotte-Mecklenburg Police Department (CMPD) suggested in statement that Anticom organizers had been noncommunicative prior to canceling the event.
"[Police] have not been able to verify whether the group intends to demonstrate in Charlotte," the statement said. "CMPD's attempt to contact organizers has been unsuccessful to date."
Jibril Hough, 50, a Charlotte-based activist who was planning a counterprotest in response to the Anticom event, expressed happiness over news of the cancelation during a brief phone conversation.
"Sometimes love does win," he says.
Hough points out that the group had gone from urging participants in the rally to "bring guns" to very quickly canceling it altogether.
"I find it ironic that they went from urging people to bring guns and now they're citing safety concerns," Hough says with a chuckle.