White Police Officer in South Carolina Charged in Fatal Shooting of Black Man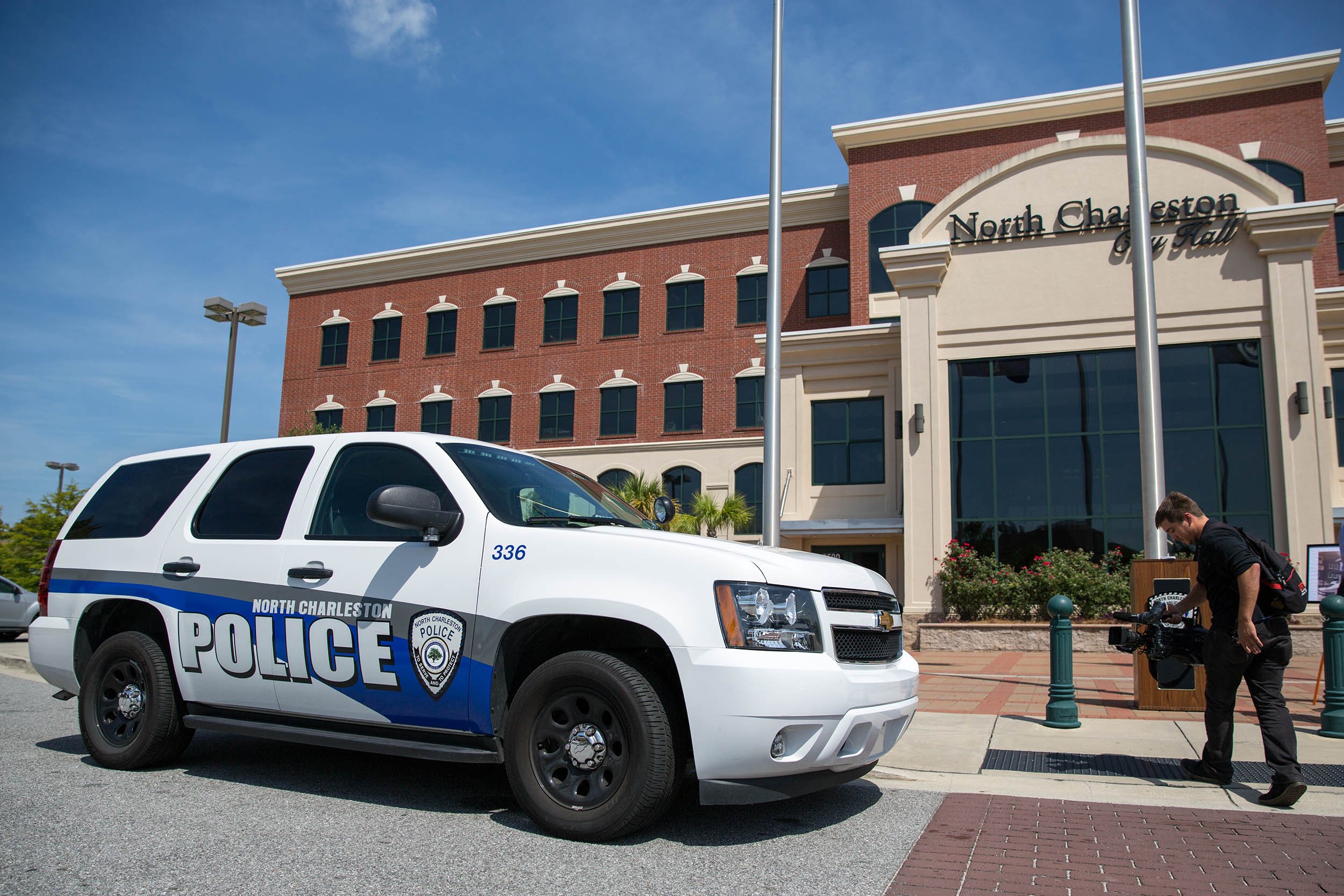 Updated | A white police officer was charged Tuesday with murder in the fatal shooting of a black man in South Carolina. Mayor Keith Summey of North Charleston announced the charge at a press conference after a video taken by a bystander surfaced, appearing to show officer Michael T. Slager firing multiple times at Walter L. Scott, 50, as he ran away.
The incident occurred on Saturday, and news of the charge was initially reported by South Carolina's The Post and Courier and The New York Times.
"When you're wrong, you're wrong," Mayor Keith Summey is quoted by The Post and Courier as saying at Tuesday's press conference. "When you make a bad decision, don't care if you're behind the shield or a citizen on the street, you have to live with that decision."
The fatal shooting comes after several high-profile incidents in recent months of police brutality against unarmed black men—including those that resulted in the deaths of Michael Brown in Ferguson, Missouri, Tamir Rice in Cleveland and Eric Garner in Staten Island, New York—prompting a series of nationwide protests and conversations about racial disparity in the United States.
According to police reports, Slager, 33, stopped Scott in a Mercedez-Benz Saturday for driving with a broken taillight. When Scott ran away from the scene, police reports said, Slager chased him and fired his Taser before shooting Scott and turning to his radio to say, "Shots fired and the subject is down. He took my Taser." Slager had said the man had taken his stun gun and that he feared for his life.
However, the video—provided to the Times by Scott's lawyer and obtained by The Post and Courier from an anonymous source—appears to show a different version of the final moments of the incident. It seems to have been taken from beyond a fence looking over a grassy lot dotted with a few trees. The footage starts off shaky and vertical, but the frame becomes horizontal and more steady just before before the shots begin sounding out. When the camera focuses on the scuffle, the officer appears a few feet behind Scott, whose back is turned. Something falls to the ground behind the officer and as Scott begins to run, Slager pulls out his gun and fires what sounds like eight shots. Scott falls to his knees first and then forward onto the ground.
Slager, who glances in the direction of the camera before heading toward Scott, can be heard repeatedly yelling, "Put your hands behind your back," while the cameraman walks toward the spot where Scott fell, muttering, "Oh shit." Slager seems to then pull Scott's arms behind his back to put handcuffs on him. According to The Post and Courier, Scott died on the spot.
Spokesmen for Scott's family responded to questions from reporters Tuesday evening at a press conference. "In this situation, an African-American male was shot and killed. It speaks not only to minorities not having the same official power to speak for themselves but it goes to power itself. This was a cop who could get away with just shooting someone that many times in the back. He just casually shot a man in the back that many times. It speaks to the value of human life." The spokesmen said the family will be filing a civil lawsuit, and that the person who took the video would speak at some point. "We have to really recognize the strength, fortitude and fearlessness that it takes to come forward when you just filmed a police officer murder somebody."
"He spent two years in the Coast Guard and he had four children," Scott's brother said at the press conference. "I had two brothers, now I have one brother. Out of my brothers, he was the most outgoing. He knew family I didn't know, he was well-known in the community. Loving and kind, that was just his nature."
When asked by a reporter whether he thought Scott been a victim of racial profiling, his brother replied, "I don't know."
Warning: Please be aware this video contains graphic images.
With additional reporting by Polly Mosendz.